M A I N N E W S
Ghazi killed as troops storm Masjid
40 militants, 8 commandos gunned down
Afzal Khan
Tribune News Service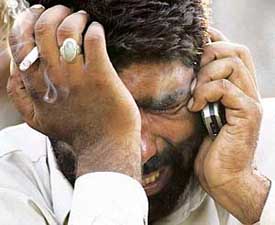 A Pakistan national cries for his brother held inside Lal Masjid in Islamabad on Tuesday. — Reuters photo
Islamabad, July 10
Pakistan troops seized control of the Lal Masjid after 14 grueling hours of fierce fighting with militants which left at least 60 dead, including defiant cleric Abdul Rashid Ghazi and eight commandos of Pakistan's ace Special Services Group (SSG) and 40 militants.
Ghazi was killed fighting along with seven colleagues from his bunker in the basement. His ailing elderly mother also died, reportedly of shock amid boom of heavy gunfire. Umme Hassan, the firebrand wife of chief cleric Maulana Abdul Aziz and her daughter Asma were arrested earlier in the day. Scores of people, including 15 commandos, were wounded during the exchange of fire.
Prime Minister Shaukat Aziz, while talking to reporters after attending a top level meeting presided over by President General Musharraf, described the operation as "successful" and vowed to strictly tackle madrassas engaged in terrorist and other illegal activities. Religious leaders, reacting strongly to the event, convened a meeting of federation of madrassas on Wednesday to launch a protest movement. Government tightened security across the country to guard against possible violent backlash.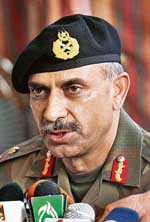 Military spokesman Major-General Waheed Arshad

Troops stormed the Red Mosque and adjacent girls' seminary Jamia Hafsa early Tuesday at 0430 hours. It marked the culmination of seven days of awe and scare campaign by security forces shortly after marathon conciliation talks led by ruling party chief Chaudhry Shujaat Hussain and some eminent religious leaders, which dragged on for nearly nine hours, broke down abruptly. The penultimate phase of the operation codenamed "Silence" to flush out the Red Mosque was unleashed.

According to a PTI report, there were reports that Ghazi was holding women and children as human shields, some of whom were said to have been killed. Officials said Ghazi was shot in the leg and told to surrender but he refused to do so, prompting commandos to carry out the attack.

The death toll has crossed 100 as the operation continued with well-armed militants engaging troops in pitched battles, according to latest reports.

Earlier, military spokesman Major General Waheed Arshad said 50 militant students, including 34 children, surrendered this morning, while 50 ultras, who were injured, were admitted to hospitals.

Replying to a question why the operation took so long, Arshad said troops followed a step-by-step approach to minimise the casualties and avoid collateral damage to the mosque.

He said the complex has over 75 rooms besides vast courtyards and basements and all needed to be cleared one by one and there were still different bunkers to be cleared.

There are reports that more women and children were locked up in the basement and troops were trying to verify it.

President Gen Musharraf, himself a commando, who was personally guiding the operation, issued orders for final assault rejecting a compromise formula evolved earlier by Shujaat and ulema during talks with Ghazi. It envisaged letting Ghazi safe passage to a his home village in southern Punjab, without being arrested, humiliated. He will live there for some time as a free man before facing due process of law. Musharraf insisted that Ghazi must hand himself over to the authorities for trial under the law.

In his last message recorded to a TV channel on telephone a couple of hours before his death, Ghazi said he was dying fighting for the cause of Islamic Shariah. "Please tell the world the army tried to bend my and accept

humiliating terms which I refused."

Ghazi said he wanted the media to visit the mosque and verify his claim that he and his colleagues had no heavy weapons like rocket launchers and grenades but only 14 Kalashnikov rifles with which "we faced full might of the Pakistan Army". He said there are no foreigners in the mosque.

In the first flush of attack, troops swiftly took control of nearly 70 per cent of the premises of the mosque and the seminary. Ghazi and his militants, some alleged to be wanted terrorists, however, put stiff resistance from bunkers in the basement and some rooms in the southern side of the seminary building. It continued for 12 more hours till Ghazi was gunned down.

Security forces began a full-scale siege of the Lal Masjid (Red Mosque) last week, not long after mosque students abducted seven Chinese workers they accused of running a brothel in the guise of massage centres. Nineteen persons, including a soldier were killed on the first day but later it turned out to be a battle of nerves with authorities mixing heavy pounding of gunfire and mortars with pauses for talks to wear down Ghazi.

Things took a nasty twist on Sunday when a Lieutenant Colonel of the SSG, Haroon, was shot dead and another officer Major Tariq was wounded while building a bridgehead close to the danger zone. Same afternoon, Musharraf escaped a rocket fire on his plane from an anti-aircraft gun installed on roof top of an abandoned house while he was flying to visit flood ravaged areas in Balochistan.

Musharraf warned the militants on arrival in Turbat: "Surrender or you will be killed."

The operation formally ended the reign of Ghazi brothers - Aziz and Rashid - whose family headed the mosque ever since their father Abdullah was appointed its head priest by first military ruler Ayub Khan when it was constructed in 1965.

Since then it remained a patron of all military rulers, specially Zia-ul Haq, and even under Musharraf it continued to have links with al-Qaeda and Taliban.

Abdullah died in 1998 but his sons, however, continued promoting radical views.

Though Lal Masjid was a government-run mosque, Aziz and Ghazi while receiving fat salaries built an empire with madrassas housing over 7,000 boys and girls mostly drawn from poor families of Pakistan Occupied Kashmir and NWFP.