India, Australia sign defence accord
Girja Shankar Kaura
Tribune News Service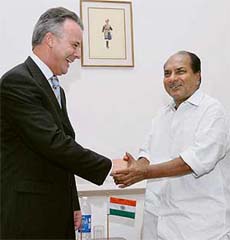 Australian defence minister Brendon Nelson shakes hands with defence minister A.K. Antony in New Delhi on Wednesday. — Tribune photo by Manas Ranjan Bhui
New Delhi, July 11
India and Australia today signed an accord to enhance their defence ties years after the relations between the two countries froze following the Indian Navy's build-up in the 1980s and the subsequent Pokharan nuclear tests.
Coinciding with visit here by Australian Defence Minister Brendan Nelson, which is the first such visit in two decades, the two countries signed an arrangement for greater maritime cooperation for security in the Asia Pacific region and to hold joint naval exercises besides increasing military exchanges especially the training of their armed forces.
The strategically important arrangement for India was signed by Defence Secretary Shekhar Dutt and Australian High Commissioner John McCarthy in the presence of the Defence Ministers of the two countries.
The accord came after Nelson held a 45-minute meeting with Defence Minister A.K. Antony. Their talks were prceded by a meeting of top officials of the two countries.
According to Defence Ministry officials signing of the arrangement would facilitate the protection of classified information exchanged to implement defence cooperation activities between the two countries, as envisaged in the Memoranda of Understanding (MoU) on defence cooperation concluded in March 2006.
The MoU was signed during the visit here by Australian Prime Minister John Howard.
The Australian Defence Minister earlier in the morning visited the Amar Jawan Jyoti and later during the day Chief of Naval Staff Admiral Sureesh Mehta and Chief of Army staff General J.J. Singh called on him before his meeting with the Indian Defence Minister.
Vice-Chief of the Indian Air Force Air Marshal B.N. Gokhale also met the Australian Defence Minister.