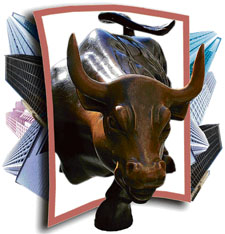 Guidance curve for realty
NHB Residex will ensure transparency and hence attract more foreign investment, builders tell S. Satyanarayanan
Property dealings in India are still riddled with "grey" buisness and transparency in deals is still a far cry in many parts of the country. With the real estate boom in the country, property prices are skyrocketing and there is an element of overheating.
Realty Index has headroom for growth
BSE launched the index this week to track prices of the real estate stocks, reports Shiv Kumar
Punters heralded the advent of the BSE Realty Index this week by taking the newborn to a 43 point high on the very first day of trading.
Housing index under construction
RBI moots a norm to study the progress of infrastructure in the housing sector, says SC Dhall
Due to boom in housing sector - the Reserve Bank of India (RBI) plans to create "Housing Statistical Index". This will help to study the progress in the housing sector. In India, the data on housing sector is not maintained property by both borrowers and lenders, providing dissimilar information.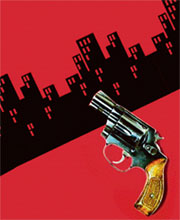 Ugly underbelly
Jupinderjit Singh talks about the crime and the darker side
Making profit or suffering losses is a part of the game in real estate. At times greed or fear of losses as well as selfishness in seeking more share than others brings out the darker side in the trade that leads many to take lives of their blood relatives or dear friends just to make more profit, which otherwise might have been shared. This side has taken an epidemic form in the industrial cities like Ludhiana, Jalandhar and Amritsar where the fast expanding cities engulf village land thus escalating prices within a short period of time. The same happens at select places in the city which get more developed or are situated near an upcoming development project.
Estate talk


Unitech aims apartments at high networth individuals
India's leading real estate developer stunned the nation when it bagged the largest land deal in the country for a record sum of Rs 1,582 crore at Noida. Now it plans to come up with an imposing piece of architecture that will boost the skyline to offer upscale residential homes overlooking a Greg Norman signature golf course.
Sanjay Chandra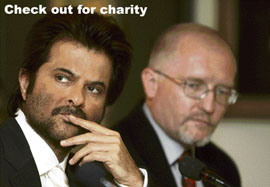 Actor and goodwill ambassador of Plan India Anil Kapoor listens to a question from the media as Country Director Plan India Roland Angerer (right) looks on at a press conference in New Delhi. Carlson Hotels Worldwide announced a collaborative initiative with Plan India, an NGO working for the childern in adverse circumstances. As per the initiative Rs 40 at every guest check out would be contributed by all Radisson Hotels and Resorts and Country Inns and Suites of the Carlson Group in India.— AFP photo
My home, my style
Blend colour and fabric to generate a new look, suggests Smriti Sharma
Everyone pines to have a dream home decorated in a way that reflects inner thoughts. For that one needs to choose colours and themes that are a fine mix of contemporary design and trendy style. Whether you are decorating a single room or the house as a whole, you need to cultivate a decorating style of your own.
GRound REALTY
Don't stretch Vaastu too far
Jagvir Goyal shares some tips that can make a builder's job easy
Guidelines on many important activities of house construction such as purchase of plot, foundations, brickwork, shuttering, reinforcement, RMC etc have been given under this column. There are some finer points caring for which may pay dividends to the house builder.
TAX tips
Add amount spent on registration towards cost of plot
Q. I have purchased a plot of land recently in my own name. However, the construction thereon would take two to three years time. I would be arranging funds for construction out of my own sources as well as by obtaining a loan from a bank. I have two questions in this regard: