COLUMNS



THIS ABOVE ALL

TELEVISTA

GOOD MOTORING

FASHION

AUDIO SCAN

MUSIC ZONE

WEBSIDE HUMOUR

FOR CHILDREN



CROSSWORD

RHYME TIME

ROOTS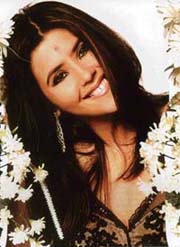 Queen of soap city
A media tycoon before she turned 30, winner of the prestigious Ernst and Young Award at 27, this youth icon has her pulse on the viewers' imagination and an eye on TRPs. From soaps that make her audience laugh, agonise and cry, to movies and now a serial on Pakistan television, she is constantly striving for more. Shiv Kumar profiles Ekta Kapoor, the Creative Head of Balaji Telefilms.
She could easily hav e been one of the leading ladies of Bollywood. But Ekta Kapoor chose to make her mark behind the scenes. From the glamour pages, Ekta usually graces the pink pages of most newspapers as well, as the promoter of one of the most successful media companies today.

When sky is not the limit
During her sojourn in space that lasted over six months, astronaut Sunita Williams captured the imagination and the hearts of millions worldwide. She set a world record for women for Extravehicular Activity through four spacewalks totalling 29 hours and 17 minutes.

Hooked on to chillies
A 17-month-old toddler in Assam happily devours the locally available scorching Bhut Jolokia, recognised by the Guinness Book of World Records as the hottest chilli on earth.