Queen of soap city
A media tycoon before she turned 30, winner of the prestigious Ernst and Young Award at 27, this youth icon has her pulse on the viewers' imagination and an eye on TRPs. From soaps that make her audience laugh, agonise and cry, to movies and now a serial on Pakistan television, she is constantly striving for more. Shiv Kumar profiles Ekta Kapoor, the Creative Head of Balaji Telefilms.
She could easily hav e been one of the leading ladies of Bollywood. But Ekta Kapoor chose to make her mark behind the scenes. From the glamour pages, Ekta usually graces the pink pages of most newspapers as well, as the promoter of one of the most successful media companies today.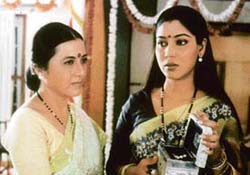 Success story

: A still from Kahani Ghar Ghar Ki
More than 13 years after Ekta began her career as a television producer, Balaji Telefilms, the company she owns along with father Jeetendra and mother Shobha looks a trifle jaded. Only about half the top 50 shows now belong to this company while nearly two-thirds of the top pile belonged to Ekta in the early years of this decade. But considering the quantum leap in viewership, Ekta is still the reining queen of sudsville.
Ekta is now dreaming big. The 30-something is all set to share the marquee with Rupert Murdoch, no less. Along with Murdoch's Star TV, Ekta's Balaji is all set to launch a slew of television channels for southern India. Sun TV outshone Murdoch's Star in its attempts to enter this market with Vijay TV, so Ekta has been called upon to provide some added glitz. "Under the joint venture, the two companies will combine their resources to infuse Vijay with Balaji content. The joint venture also targets at launching a Telugu channel by the last quarter of the year. Channels in Kannada, Malayalam and other key regional languages will be launched within the next two to three years," a statement put out by Balaji said. In other words outrageously weepy mother-in-law and daughter-in-law sagas will sprout across the linguistic smorgasbord taking the concept of the northern Bharatiya Naari to the south of the Vindhyas.


After several unsuccessful attempts at TV serials, Ekta, then just in her late teens, hit the big time in 1995 with Hum Paanch. The serial ran for five consecutive years on Zee thereby providing Balaji with money and muscle to keep the factory going. Ekta scored big with her Kyunki Saas Bhi Kabhi Bahu Thi which made Smriti Irani a national figure.
The past decade has seen Ekta turn Balaji in to a money-making machine. The marketing executives Ekta brought in have monetised everything. Aspiring script writers had to shell out a bomb for an application form and those finally selected at the end of the exercise were put up in crummy hotels where they had to work day and night churning out scripts. Known for her capricious nature, Ekta would often reshoot entire episodes of her serials only because the feedback she received from her audience demanded so. Actresses collapsed on her sets, script-writers worked out of hospital beds, technicians suffered nervous breakdowns, but Ekta, with sights fixed on the TRP metre, demanded her due.
Having emerged as a prima donna of the entertainment industry, Ekta has begun to use her muscle to promote her brother Tushar Kapoor in the film industry. With neither looks nor talent to write home about, Kapoor has been reduced to playing walk-on roles in home productions financed by his sister. The latest such misadventure being Shootout at Lokhandwala where Vivek Oberoi simply steals the scene.
Having been the showcase for dad Jeetendra's Jumpin' Jack antics during the fag end of his career, the company almost went into cold storage till Ekta resurrected it for the television medium. But now the big screen bug seems to have bitten her as well. After flopping miserably with Kyunki Main Jhooth Nahi Bolta with Govinda and Sushmita Sen in the lead, more misadventures at attempts to launch brother Tusshar followed.
After eroding some few crores of shareholder wealth, Ekta has decided to tweak the model a bit. A new company Balaji Motion Pictures Ltd has been spun off to handle film production. Also Ekta has decided to collaborate with others rather than plonk her money and management time in the ventures. Hence the tie-up with Sanjay Gupta for Shootout at Lokhandwala. Other collaborations include one with Sunil Shetty's Popcorn Entertainment directed by Apoorva Lakhia.
Ekta's emergence as one of the most powerful in the media business in Asia was not apparent in her younger days. Reports say, she was an average student who managed to scrape through school and college before she began to dabble with production. Even her first attempts at this failed, with the teenager burning up more than Rs 50 lakh in the first pilots she produced before striking gold with Hum Paanch.
Her next success came from the Tamil Kudumbam before she discovered the power of K. The K series of programmes which Balaji launched for Star put the company among the biggest earners in the entertainment index of the Bombay Stock Exchange.
Ekta is known to be a hands-on tycoon dabbling in everything from script-writing to direction to the final output of her serials. All of her directors are known to take orders from Ekta and those who refuse to toe her line are often unceremoniously dumped.
Ekta seems to have hit upon the idea that women make the best target audience for her serials. All her serials are women-centric. The protagonists as well as their tormentors are women. "The characters, particularly women, look alike. Stiff, dolled up in finery at all times of the day and night, they sport plastic smiles. The themes are often regressive. A commentator once wrote: "Do you ever find such women in real life?"



TV to big screen
Ekta is making waves on celluloid as well. She roped in her uncle Ramesh Sippy, the maker of Sholay, to head Balaji Motion Pictures, a subsidiary of Balaji Telefilms.
Last year, the company made two films Kya Kool Hai Hum and Koi Aap Sa but suffered losses after the second venture flopped. Both the films were made for the 'multiplex audience'. Wiser, Ekta has decided to de-risk the business by tying up with other producers. Thanks to Sippy, Balaji Motion Pictures entered into partnership with Sanjay Gupta and Sanjay Dutt's banner White Feather Films to co-produce Shootout at Lokhandwala. Again the movie holds little interest beyond the Mumbai market, but the grapevine has it that the movie will break-even if not make a small profit. Balaji itself will benefit the most from the venture since it is distributing the movie in the prime Mumbai market.
Ekta's is also entering film distribution. She has purchased the distribution and satellite rights of two T-Series' films, Bhool Bhulaiya and Darling. She entered a back-to-back deal with Star Television for the two films. Future plans include operations in New York, Los Angeles and Canada. The company plans to invest Rs 35 crore in the films business in partnership with several other producers. Partners of Balaji include Sunil Shetty's Popcorn Entertainment Pvt. Ltd for three movies and two more films with White Feather Films.
— S.K.
Khwahish first Indian serial on PTV
Subhash K. Jha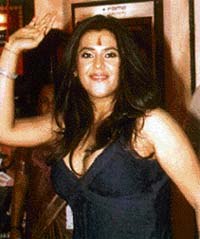 Pakistanis are keen to meet Ekta
She has produced one of the most successful films of the year, but Ekta Kapoor is more excited about her TV series Khwahish, the first Indian serial that is being legally shown in Pakistan. "To me the big Sony event at the moment is Khwahish, a soap that we produced in Dubai for the Middle Eastern market. We shot it on neutral and since we didn't want any legal or political repercussions. It's already been aired in Pakistan," Ekta told IANS. So far our shows were being shown illegally in Pakistan. Our Kasautii Zindagii Kay is huge in Pakistan. Now we've given them the first official Balaji soap and they love it," she added. The Pakistanis are really keen to meet Ekta and she's planning a trip to Karachi and Lahore very soon. "My creative director Nivedita Basu had gone to Pakistan. And she got a very warm welcome. We held a talent hunt for Khwahish there. The principal male lead is from Pakistan. And now Khwahish will be aired on Sony in a fortnight."
She is also going to produce a reality show for Sony Entertainment. For that, she has teamed up with Sanjay Gupta with whom she had produced the successful thriller Shootout At Lokhandwala. "We've just got a confirmation letter. It's going to be the biggest reality show ever in the country. I can't give out more details right now," said Ekta.
"But it's like nothing that has been done so far. I've waited so long to do a reality show. Sanjay and I wanted to get it right before getting it on the road," she added.
The Ekta-Gupta reality show starts in January 2008. One of Ekta's old serials Kya Haadsa Kya Haqueeqat is also resuming on Sony. Ekta's latest alliance with Star for the daily soap Kasturi is a big success. "It's mom's favourite and therefore my favourite," said Ekta.
"We've made sure it's got some worthwhile talent. We got the Punjabi stage and film actress Sheeba Chadha to play one of the leads. She didn't want to do television. But we made it worth her while. See how classy she is!
"My Kasturi hero and heroine played supporting roles in other Balaji roles. I was discouraged from taking them on. But I'm willing to take on new talent even if I see potential in a peon at Balaji... In that sense I'm very much like Ram Gopal Varma."
Ekta rubbishes all rumours that her large-screen gangster satire C Company is a take-off on Varma. "The film has nothing to do with Ramu. I love his cinema. C Company has no spoof on Ramu's cinema. In fact, it will do a take-off on our company Balaji Telefilms." — IANS
THE results of financial year 2007 clearly showed why the punters on the Bombay Stock Exchange can't get enough of the 30-something go-getter.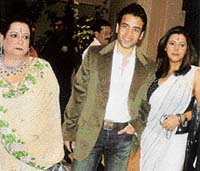 With mother Shobha, the moving force behind Balaji, and brother Tusshar, who she is promoting fervently
Balaji Telefilms profit in the fourth quarter of 2006-07 alone rose from Rs 15.5 crore to Rs 21.28 crore, a rise of 37.25 per cent from the same period of the previous year. Earning per share for the whole of 2006-07 was up 33.66 per cent from Rs. 9.15 a share to Rs. 12.23 per share.
From around Rs 113 a share in March last, it rose to Rs 263 before falling lower. Punters are eagerly awaiting the results of Khwahish launched in the Middle East in June last and the results of Kayamath launched last quarter. Deepak Shenoy, an investor who runs the Indian Investor's blog, notes that Balaji languished for years despite clocking 20 to 30 per cent annual growth.
Shenoy warns that the markets are fickle. A sudden sharp correction could mean that small cap stocks like Balaji could be dumped like hot potatoes. — S. K.