TELEVISTA
Mark of a good tribute
Amita Malik
Inevitably, prominent public figures pass away from time to time and the media gets a great opportunity to bid them a dignified and, if required, fond farewell. The media does reasonably well except when it comes to politicians. And I mean both the death of politicians and the tributes paid to them. Doordarshan, true to its time-honoured tradition, plays safe and quotes the condolence messages of the President, the Prime Minister and others right down the line. And it did the same over the sad passing away of former Prime Minister Chandra Shekhar, who was one of the most interesting and even colourful figures in Indian politics.
Socialist, secularist, rebel, young Turk, who, even when in the Opposition, kept his friends and could keep up a civilised relationship with Indira Gandhi when they were so-called enemies. One does not easily come across such politicians in a hurry nowadays. Well, most channels also followed the beaten track. I am not sure that even one of them interviewed his sons. Perhaps the best tribute came from a distinguished editor, Prabhash Joshi, who admirably and feelingly made a moving blend of political analysis and personal nostalgia to give us a fine tribute to a distinguished politician. One wished there had been more such tributes, especially from the humble folk to whom Chandra Shekhar had endeared himself. But Karan Thaparís indepth discussion with Chandra Shekharís close associates Amar Singh, Yashwant Sinha, George Fernandes and journalist Inder Malhotra stood out alone.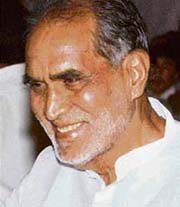 One is glad to note that it was quite different when it came to that great cricketer and outstanding human being, the late Dilip Sardesai. The tributes, the fond farewells from fellow cricketers and sports writers, were delicately blended with balanced assessments of his achievements in cricket, which listed his great innings and explained how much he had contributed to the game in India.
The articles on him and the references in sports programmes on the electronic media went on for days. But one always found them interesting because both hard research and personal experiences were behind them. And that is how it should be done. The tragic footnote was a lament from his wife, that perhaps the medical attention given to him in his last days had failed him. It needed courage to say this in her hour of grief and one can only hope that the medical profession, which is getting increasingly commercialised and devoid of the personal touch, will take note. Perhaps there could be a media discussion on this subject. The family doctor, who almost used to be a member of the family, is a fast vanishing tribute. And this aspect of doctor-patient relationship surely needs a long, compassionate look.
Now I return to my favourite sport, tennis and Wimbledon. That rain-soaked centre court provided more than usual high drama, not least of all tennis matches running into two or three days. But the finals, with rare sunny days, made for an exciting climax. To watch the third-ranked player in France beat No 1 Justine Henin was pure drama. One of the reasons Marion Bartoli gave a splendid performance was that she spotted James Bond(Pierce Brosnan) in the audience. Or was it Hugh Grant? She said she put in her best for him and also her dad. It was a touching sight to see Richard Williams, Venusís father, hug and console Dr Bartoli, Marionís father, after he broke into tears when his daughter was defeated by Venus. Such lovely warm moments makes TV score over all other forms of media.
The Federer-Nadal final was one of the most exciting ever with Bjorn Borg watching Federer equal his record from the stands. The gallant fight put up by Nadal will long linger on in the mind.