Back of the book
Free Fall
by John Francome Headline. Pages 314. £ 6.00.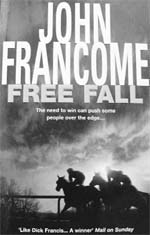 Jockey Pat Vincent had ambitions to win big races and become a wealthy sporting hero. But when Pat realises his career isn't going anywhere he devises a scam to help fulfil his dreams. The problem is, if he is found out, he will be 'warned off' for life.
Pat's girlfriend Zoe is starting her second full season as an apprentice jockey. innocent and idealistic, she only knows one way to ride — that's to win. She has a chance of becoming champion apprentice, if she is not sidetracked by Pat and the disaster of her sister Harriet's unhappy marriage.
Along the crumbling cliffs in Somerset a man walks his dog. Every day Andy Burns — Pat's partner-in-crime, Harriet's tortured husband — wrestles with the demons that haunt his life. But Andy would be better off keeping his thoughts on the ground — it's a long way down to the beach below. Free Fall is the new murder mystery by racing legend John Francome.
First Lady
by Michael Dobbs. Headline. Pages 375. £ 6.00.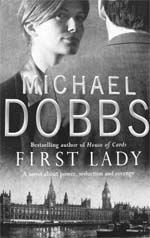 Ginny is the young wife of an Opposition MP, Dominic Edge, and is entirely content with her life in the constituency home. So when she overhears gossip of her husband's affair, it is a shattering blow. For some women such things seem part of the Westminster game, but Ginny is no ordinary woman. She decides that there is only one way to stop being a perpetual victim of the system, and that is to become its master. Ginny will not be satisfied until she is the wife of the Prime Minister.
And so begins a voyage of personal discovery for Ginny that will change her from devoted mother and housewife to ultimate manipulator. Driven by the intuition and determination of a wronged woman, she takes ruthless advantage of the ineptitude of men. Ministers, editors, churchmen and even the Monarch fall victim to her wiles. Yet in the pitiless world of politics, one man's success can only be achieved by the ruination of may others, and Ginny will discover there is a high price to pay for pushing her husband to the very top.
Michael Dobbs ruthlessly dissects the greed, corruption and lust for advancement in twenty-first century Westminster. It is a novel as witty as it is moving, as compelling an entertainment as it is an intimate insight into the darker corners of the human soul.
The Year of the Cobra
by Paul Doherty. Headline. Pages 401. £ 2.99.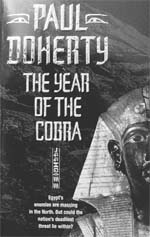 EGYPT is in danger. The barbarous Hittites are rumoured to be massing their armies. Pharaoh Tutankhamen is seriously ill and the country appears powerless against its enemies. Scheming minister Lord Ay sends Mahu, Overseer of the House of Scribes, sets out to uncover the Hittites' plan. But what Mahu discovers could be more devastating than any attack
When the Masked messengers emerge to guide Mahu many unanswered questions reveal themselves: the truth about Pharaoh Akenhaten's disappearance; the identity of the 'Watchers' and secret knowledge about the Aten; the one God and the coming of a Messiah. Mahu knows that Egypt's future rests on this knowledge, but he also knows that knowledge is power...