Food talk
Many ways with fish
Grilled, pan-fried or steamed, a pomfret can be relished in all its avatars, says Pushpesh Pant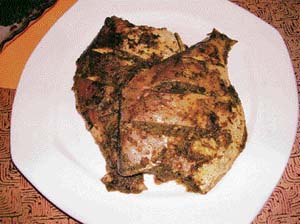 Truth be told, the pomfret has been our favourite fish for many years. It was not available in the hills of UP where we grew up and when one came across this exotic flat-bellied beauty with oh! such beautiful proportions, it was love at first sight. For months, we couldn't get over the infatuation. It had to be tandoori pomfret with green chutney masala whenever we ate out at the CP or the then popular Panchkuin road dhabas.
It took us many years to discover that this variety of fish can be enjoyed in many other ways. Since, we have smacked our lips after happily demolishing single-handed a jumbo pomfret that was brought to our table in what was allegedly Singapore Chinese attire replete with pineapples et al.


Masala pomfret
Ingredients
Pomfret 500 gm
(One whole, cleaned and washed,
with the fins, head and tails removed) Whole dry red chillies
(deseeded, soaked in 1 tbsp vinegar
for about 15 minutes) four
Cumin seeds 1-1/2 tsp
Garlic cloves 10-12
Ginger 1-inch piece
Sugar 1 tsp
Oil 1/2 cup
Salt to taste
Method
Make a marinade by grinding the red chillies, cumin seeds, garlic, ginger, salt, and sugar. Rub this pastes well inside the fish and keep aside for at least two hours. Heat oil in a large frying pan and shallow fry or pan grill the fish on low heat for about seven minutes on each side. Remove and place kitchen towels to absorb excess oil.
Another time when we tasted a piquant Mangalorean curry prepared with sliced pomfret it was sheer black magic — the spell cast made us oblivious of all other, presumably delicious, dishes served. And, how can we forget that peppery Chettinad 'winner' in Chennai that was a veritable explosion of pleasantly pungent flavours?
Grilled or pan fried, steamed or baked, a pomfret is always exceptionally satisfying seldom requiring more than a wedge of lime and a few onion rings for accompaniment.
There are other plus points in its favour. It comes in many sizes and you can play around with plating and portioning individually. It is quick-cooking and easy to handle even when served whole. The fish is also very accommodating in adapting itself to different spices. Now that with improved refrigeration and efficient transportation the fish is available in places far removed from the coast — most fish-mongers offer the choice of black and silver pomfret — we strongly suggest that our readers make (or renew) acquaintance with this delightful creature.
Although methinks that nothing can touch the taste of chutney-filled tandoori, the pan-grilled variation comes close. You are free to change the colour and flavour of the filling. The khatmittha (sweet 'n' sour) stuff of the recipe can yield way for the 'evergreen' refreshing dhania-pudina-hari mirch or the lahsun-amiya based filling cum marinade. The only precaution needed is a light touch while handling the cooked fish — it is really delicate and flakes quite easily without warning.