Hollywood Hues
High on drama
The plot of Oceanís Thirteen is somewhat complicated but it is a slick, classy film with many big names pulling their weight, writes Ervell E. Menezes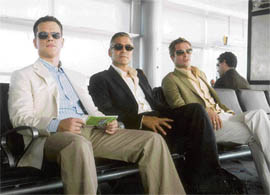 Matt Damon, George Clooney and Brad Pitt in Oceanís Thirteen
So Danny Ocean (George Clooney) is at it again and Oceanís Thirteen is better than Twelve. In this one, the camaraderie and asides keep the viewer going. Revenge is sweet even if the process could have been hastened. It is a slick, classy film with a plethora of big names pulling their weight.
To begin with, ruthless casino owner Willy Bank (Al Pacino) deceives Dannyís friend and mentor Rueben Tishkoff (Elliott Gould) out of a promised partnership, which lands him in hospital. Dannyís gang is therefore out to settle the score.
Thereís Rusty (Brad Pitt), Linus (Matt Damon) and Terry (Andy Garcia) who form the inner core and many more on the periphery like Basher (Don Cheadle) and Mr Wang (Shaobo Qin) and the Big Four gel like the original brat pack of Frank Sinatra, Dean Martin, Peter Lawford and Sammy Davis Jr. The plot is somewhat complicated and the technicalities may sail over those not familiar with gambling but the gags are clever.
Director Steven Soderberg goes off to a flying start with the scene of action constantly shifting. But 140 minutes is a long time to hold the viewersí attention. The Mexican side of the story could easily have been dispensed with. But guess he had to give the big names enough footage and that sometimes proves a handicap.
Pacino, donning a wig, is not easily recognisable for starters and so is the other oldie Elliott Gould without his customary beard and long hair. It is only in the happier second half that one can identify with his trade mark grin and facial expressions. Gould and Donald Sutherland was a prized pair in the 1970s. It is back to Las Vegas, the casino capital of the world, which is beautifully shot.
That the gang has to infiltrate the casino called The Bank on the grand opening is the big plan and disguises have to be resorted to. Itís not smooth sailing with failure often cropping up but the intent is strong enough to make them persevere. The idea is to undoctor the casino machines so that the clients win and of course steal Bankís priceless diamonds. In the process his right hand woman Abigail (Ellen Barkin) has to be seduced, with Laraís Theme and A Man and a Woman soundtack as the backdrop.
There are times one felt it is all foreplay, no orgasm, but thankfully the dramatic climax is worth waiting for. George Clooney, Brad Pitt, Matt Damon and Andy Garcia are given enough space and do a good job but letís hope they stop flogging these rather overrated casinos.