Dalip Singh: A life in struggle
Despite being cut off from his heritage and cultural roots early in life, Maharaja Dalip Singh continued his struggle against the British. Kanwarjit Singh Kang on lesser-known aspects of Dalip Singhís life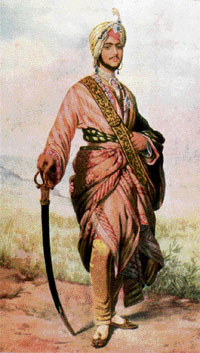 Not many may be aware of the peculiar circumstances that conditioned the struggle of Maharaja Dalip Singh, the son and successor to Maharaja Ranjit Singh, against the British.
Born in 1838, Dalipís father died when he was less than a year old. His childhood witnessed the strenuous battle for succession. Dalip was installed the Maharaja of Punjab in 1843 when he was only five. He was put under the charge of a tutor guardian, Dr John Login. Dalip remained in Lahore till he was 12, after which he was sent to Fatehgarh, a village in U.P. From there, he was taken to England in 1854.
A study of historical records has revealed that the events were manoeuvered by Lord Dalhousie, the then Governor-General of India. The Maharajaís entourage was dismissed and his connection with his roots severed. At 12, Dalip was projected as having become deeply religious and in his quest for truth was stated to be engaged in a comparative study of the Guru Granth Sahib and the Bible and finally discovered that the salvation of his soul lay in the Bible.
Lord Dalhousie wrote to Sir George Couper about Dalipís decision to embrace Christianity: "Politically we could desire nothing better; it destroys his possible influence for ever".
Dalhousie further opposed Dalipís marriage to his Sikh fiancee, the daughter of Chattar Singh. He wrote to Dr Login: "I do not wish to countenance any relations henceforth between the Maharaja and the Sikhs, either by alliance with a Sikh family, or sympathy with Sikh feelings." Dalip finally decided not to marry Chattar Singhís daughter.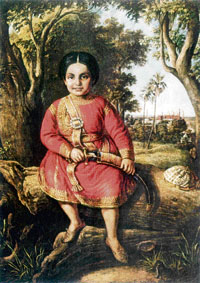 Dalip was installed the Maharaja of Punjab in 1843 when he was only five.
Dalhousie also poisoned Dalipís mind against his mother, Rani Jindan, who had escaped from her prison in the fort of Chunar and was living in Nepal under political asylum. Dalip reached London in May 1854, but when he heard that Jung Bahadoor of Nepal wanted to get rid of Rani Jindan, Dalip decided to sail for India. He was allowed but with the condition that he would not visit Punjab.
When Dalip reached Calcutta, several Sikh regiments that had returned from the China war besieged his hotel to see their Maharaja. Lord Canning urged the Maharaja to return to England at once. The Maharaja did just that but took his mother with him.
Jindan told her son that he had a claim to his private ancestral estate in Punjab. This prompted the Maharaja to study the Blue Book at the British Museum and present his claim to his family estates, including ancestral properties and family jewellery.
Rani Jindan died in August 1863. After immersing her last remains in the Godawari, Dalip, on his way back to London, married Bamba Muller, daughter of a German businessman and an Abyssinian mother, at Alexandria. The couple settled at their new house in Elveden Estate in England.
Dalip continued to pursue his claims. He debated the issue publicly and wrote a lengthy letter to the Times, which was published. This was followed by an editorial to which Dalip replied. Dalip then decided to proceed to Punjab to obtain the details of his private property, but was not allowed.
The news about his intending visit to India and the restrictions imposed on him, reverberated in Punjab too. The Tribune, then published from Lahore, in its issue of August, 1883, wrote editorially: "It is true that the Maharaja has been in England since a long time and has adopted English manners, customs and modes of life, but yet he could not have forgotten that he was born in this country and that he is the son of one of the most powerful of Indian Princes. Brilliant associations crowd round his infancy which all his education and foreign training may not have been able altogether to efface, and it is, therefore, natural that he should feel a longing to see the land with which those associations are so intimately connected.
Amidst all the gaieties of Eleveden Hall and the pleasures of and English-married life, it was impossible for him to forget that he was by birth a native of India. And that we think is reason enough to impel him to visit the country of his forefathers."
Disillusioned, Dalip realised that he was in exile. He made up his mind to leave England forever. He left for India with his family in April 1886, but was not allowed to proceed beyond Aden. Thakur Singh Sandhanwalia, his cousin, met him there and persuaded him to return to his own faith which he agreed to, and the ceremony of Pahul was gone through in the presence of Thakur Singh and four other Sikhs.
Thereafter Dalip resigned the stipend paid to him by the British under the Treaty of Annexation. From Aden, he went to Paris and contacted the Russian Embassy. He met Patrick Casey, an Irish revolutionary who introduced him to M. Katkoff, a renowned Russian journalist, who helped him visit Russia. He tried to convince the Russians about his ability to stir political unrest for the British in India.
Unfortunately, Katkoff died. By now, Dalip was short of money. He sent his trusted lieutenant Arur Singh to India to raise money who collected Rs. 80,000 but was arrested. Meanwhile, Thakur Singh Sandhanwalia and Dalipís wife died. Even though Dalip had failed in his mission in Russia, he continued his campaign against the Raj and issued an appeal to his fellow Indians on June 25, 1889, for the cause
of freedom.
Dalip died on October 22, 1893. Although Dalipís love for his country was revived quite late in life, he never forgave those who had cut him off from his heritage and cultural roots.