Femme fatale and much else
Actress Barbara Stanwyck, whose birth centenary falls on July 16, was good at playing the victim and the victimiser with equal ease, writes Vikramdeep Johal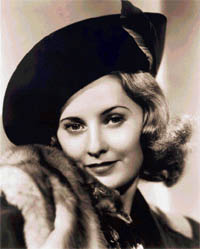 Barbara Stanwyck considered eyes as the greatest tool in movie acting.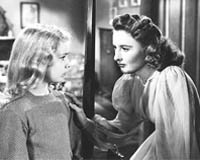 Stanwyck (right) with Ann Carter in The Two Mrs Carrolls (1947)
At the 1977 Academy Awards ceremony, veteran actor William Holden surprised his elderly co-presenter with an impromptu tribute. He exclaimed that "this lovely human being" had saved him from being thrown out of his debut film Golden Boy (1939). "Due to her interest and understanding, and her professional integrity and encouragement, and above all, her generosity, I'm here tonight," declared Holden in an emotion-choked voice. The object of his adulation was legendary actress Barbara Stanwyck — best known for her portrayal of a femme fatale!
Such was her acting prowess that she managed to lend dignity to a number of bitchy roles — gold-digger, adultress, murderess and what not. Billy Wilder's classic film noir Double Indemnity (1944) starred her as Phyllis Dietrichson, a stunner who seduces an insurance agent and lures him into killing her husband. Stanwyck, who had chestnut hair, was made to don a blonde wig, along with ankle bangles, because the director wanted her to look sleazy as possible".
Her experience of such bold roles ensured that the ploy worked like magic. She received an Oscar nomination for best actress, but the conservative Academy members voted for Ingrid Bergman, who played the diametrically opposite role of an ingenue terrorised by her husband in Gaslight.
Three other nominations — Baby Face (1933), Stella Dallas (1937) and Sorry, Wrong Number (1948) — also didn't get Stanwyck the coveted award. It was in 1982 that she received much-belated recognition in the form of an honorary Oscar for "superlative creativity and unique contribution to the art of screen acting."
In 1987, three years before her death, it was the turn of the American Film Institute to confer the lifetime achievement award on her. After being lauded for no less than 90 minutes by many of Hollywood's top names, she said with characteristic wit, "Honest to God, I can't walk on water!"
Stanwyck, whose original name was Ruby Stevens, started from humble beginnings to become the toast of tinseltown. Her childhood was nightmarish — she was only two when her pregnant mother died after being pushed off a moving trolley by a drunk. A couple of years later, her father left the family in the lurch. She was raised by an elder sister, but was on her own by the age of 13. She did several odd jobs in New York, including that of a typist at the Remick Music Publishing Company. Having set her heart on excelling in the performing arts, she told the manager about her desire to become a dancer. He got her an audition at the Strand Theatre, and she was taken on at a meagre pay of $35 a week. She also got a new name, given to her by actor-director-playwright Willard Mack.
She debuted in films with a tiny part in the silent movie Broadway Nights (1927). One of her major assets was that she had the voice to perform well in talkies, which had arrived on the scene that year.
Stanwyck landed leading roles in director Frank Capra's early works like Miracle Woman (1931) and The Bitter Tea of General Yen (1933). In the latter, she played the daring-for-her-time part of an American in Shanghai who ends up falling in love with the Chinese warlord who's captured her.
Black or white didn't interest her much — Stanwyck liked characters with shades of grey. Her versatility helped her avoid being typecast as a "loose" woman. She played with equal ease a self-sacrificing mother in Stella Dallas and a psychotic killer's wife in The Two Mrs Carrolls (1947). Moreover, she amply showed her knack for comedy as a cardsharper-cum-temptress in The Lady Eve (1941).
She held her own against the biggest actors, stealing scenes from them many a time. Her approach to acting was rather simple. "Eyes are the greatest tool in film," she said. "Sure, it's nice to say very good dialogue, if you can get it. But great movie acting — watch the eyes!" Now here was an actress who played the seductress merely with her dreamy brown ocular pair.
Her career waned as she entered middle age — a common experience for female stars in Hollywood, though not for the male ones. She went the TV way and wowed audiences with the drama series The Big Valley (1965-69), winning an Emmy Award for playing never-say-die matriarch Victoria Barkley.
Her married life was no less turbulent than her childhood. Her first marriage, to struggling actor Frank Fay, lasted only seven years. The second, to star Robert Taylor, ended after 12 years. It was rumoured that Stanwyck attempted suicide when she learned of Taylor's fling with actress Lana Turner. Twice bitten, thrice shy — she never married again.
"I want to go on until they have to shoot me," she once said. That was her passion for cinema — and for life itself, despite all the upheavals.