Folk's the way to go
Bollywood film songs infused with loads of folk music are an instant hit with GenX, says
Sonali Jha Chatterjee
"Ya ali rehemwali, ya ali yaar pe
qurbaan hain sabhi..."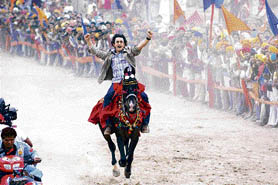 Punjabi rock made its mark with
Rang de Basanti.
There is a new freshness in the music scene of Bollywood. The music makers today know that the bulk of the audience comprises GenX. Hence, racy beats and a cool attitude resonate in the filmi music sending listeners storming to the dance floor with a song on their lips. What is different lately from the days of disco beats is that Bollywood music is showing a certain inclination towards folk music. And amazingly, each of these tracks is a hit with the audience. The question is why, when and how? Has the Indian public suddenly gone ethnic? One cannot generalise, however.
According to sound engineer Girjashanker, "Traditional music provides good inspiration for a mix or fusion of the old and new. It is after all the root of all music." "Traditional music is much richer as it has a more holistic and novel view of the world", he adds.
Undoubtedly, this new phase in music is being welcomed by a majority of people. New talents, superior voice quality and experimental music are now on the cards and the masses are lapping it up. Be it Bengali, Sufi or Punjabi, it is unified as Bollywood music which has such hold on the listeners. The production houses are looking at the potential of the music a film has to ensure business, sometimes even better than the film itself, and so a huge fanfare is organised for a film's music release.
Director Nilanjan Banerjee says, "This is an excellent time for Bollywood music. Experimentation is on with directors like A. R. Rahman and Pritam providing folk, rhythm and classical tunes in their music, each of which is a hit." But he adds, "I don't think we are coming back to the traditional. It was always there. It is now presented in a new funky style. Sufi and Bhangra remixed with techno music helps. Elements of rap are added to jazz up a song which immediately catches the imagination of the young."
Most youngsters today feel that contemporary music reflects realism and the openness in society. A perfect setting was created by the music direction in Vidhu Vinod Chopra's Parineeta showcasing romance with the Bengali essence in Piya Bole and the nightclub ambience with Kaisi Paheli Zindagani.
Punjabi rock made its mark with the music in Rakeysh Omprakash Mehra's Rang de Basanti, where each track was a runaway success. Ashutosh Gowarikar's Lagaan scored a hit with the folk strains of Ganan ghanan dekho ghir aaye badra.
According to lyricist Javed Akhtar, at present Bollywood music was going through a period of revolution and composers and lyricists were finding new things to say. "There has always been a dilemma between tradition and choices. Now we are talking about it and singing about it."
Among the new breed of singers, Rabbi Shergill successfully blends Sufi and rock elements in his compositions. He admits that there is a lot of genuine rock in his music.
The new trend is that of incorporating Sufi elements in popular music. One can find a liberal dose of Sufi elements in terms of clothes, set designs and settings in recent Bollywood films.
According to singer Kailash Kher, Sufism is so sacred and pure that even though we have started to incorporate its elements in our music, we still have a very long way to go. A. R. Rahman's music in Dil Se gives glimpses of the pure form of this art. But something that's vaguely like a qawwali, interspersed with words like 'Allah', 'Khuda' or 'Ali', and portrayed by clips of a scantily-clad woman does not mean Sufi music, he adds. Ghazal singer Jagjit Singh agrees, "Influence of Sufism in today's music is undeniable even though it doesn't stand as a genre by itself."
Kolkata-based music director Deb Choudhury believes that a massive change in music orchestration there has come about recently. There is a fusion of both western and Indian music which had disappeared sometime back when English pop ruled the roost. "Today we hear more of western pop rock along with folk music which comprises Bangla, Punjabi, Gujarati, Sufi, etc. Indian music is global today in the true sense of the term and the fact that Bollywood is going international can be proved by A.R. Rahman's standing in the world music charts."
According to the magic music maker Rahman, himself, "This spontaneous primitive form of music from which all music has originated always pulls at the heartstrings."
On each of the radio programmes dedicated to Bollywood music, the top 10 tracks are based on folk tunes sung by singers with unconventional voices, with lyrics and music that tug the emotional chords leaving the listener asking for more. Music, after all, has a lot to do with roots. — TWF