Her voice lives on
M.L. Dhawan remembers the singing sensation of yesteryear Geeta Dutt whose appeal has not declined for the present generation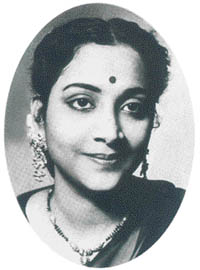 Geeta Dutt's association with Hindi film music began with Dhirubhai Desai's Bhakta Prahlad (1946) when at the age of 13 Geeta had just two lines to sing of the song suno-suno prabhu binti hamari prabhu bhool hui mujhse bhari. Her rendering of those two lines surprised everybody (including the composer Hanuman Prasad) and became the genesis of a great musical career.
Geeta's sense of rhythm and cadence were impeccable. She did not, however, follow the established norm of singing in a ghazal-motivated voice. She introduced a free flowing style of singing that relied on spontaneous expressions rather than trained vocals.
Producer Chunilal Shah told S.D. Burman if you insist on this girl's voice I am ready to go along with your choice provided I like what I hear. In Do Bhai's (1947) Mera sundar sapna beet gaya, Yaad karo ge yaad karo ge ek din humko yaad karo ge...' her voice conveyed the sweetness of honey and the pain of a bee sting. She carved a niche for herself by holding her own against Lata Mangeshkar, Asha Bhonsle and Shamshaad Begum etc.
In the initial years of her career, Geeta was known for singing bhajans in films like Har Har Mahadev (1950), Jogan (1950) etc. S.D. Burman was among the earliest composers to discover a rare swing in her voice. His jazzy and westernised score for Baazi (1951) showcased Geeta's versatility. Her breezy voice articulated the spirit of Burmanda's music in Tadbeer se bigdi hui takdeer jagga le, Suno gajar kya gaye. Her ability to be both sensual yet sensitive gave Geeta's voice a unique ethereal quality. Guru Dutt fell in love with Geeta during the recording of Baazi and their romance culminated in their marriage on May 26, 1953.
Geeta Dutt's voice could render a wide range of emotions and had an inner fire that vindicated the song's existence. She could spiritualise a lyric and make it sensuous at the same time.
Under the freewheeling baton of O.P. Nayyar, Geeta belted out soft, sultry, happy, snappy, romantic, teasing or tragic numbers. Dekho Jadoo bhare more nain, Dil hai deewana jawan hai zamana (Aasmaan-52) Zara samne aa zara aankh mila, Ai dil ai deweewane (Baaz 1953). Both these films failed but not the vocals of Geeta and tunes of Nayyar. Aar-Paar (1954) songs like Hoon abhi main jawan, Babuji dheere chalna.. were aural champaign. Geeta's resplendent voice in Thandi hawaa kali ghataa.. (Mr & Mrs 55) on Madhubala dancing by the poolside with a bevy of girls twirling umbrellas still brings a lump to the throat.
O.P. Nayyar's swinging rhythm was best captured by Geeta in Di de daala nazrana (Musafirkhana-1955), the spell of Jaata kahan hai deewane (CID-1956) still abides. She brought seductive allure in songs like Mera naam chin chin choo (Howrah Bridge-1958).
Guru Dutt launched a film called Gauri with Geeta Dutt in the lead. When she went to the studio for shooting, she learnt that her husband was in love with Waheeda Rehman. Due to her troubled marriage she had complaints from composers about her not being available for rehearsals and recording. Asha took her place and went way ahead of her. Unable to reconcile with her personal and professional frustrations, Geeta found solace in liquor. Things turned worse for Geeta when Guru Dutt committed suicide in October 1964.
Geeta was hardly 35 and had magic in her voice. But times had changed. O.P. Nayyar was going great guns with Asha. Geeta then made that famous phone call to him to ask 'What have I done that you do not send for me at all'. Following this, he used Geeta's vocals in the Twelve 'Twelve O 'Clock' (1958) in lilters like Kaisa jadoo balam tu ne daala.
It is the sheer volume and scale of popularity that songs of Burman and Nayyar reached that made them special in Geeta's oeuvre, she was captivating and alluring with other music directors as well. Na yeh chaand hoga (Sharat/54/Hemant Kumar) Ae dil mujhe bata de.. (Bhai Bhai/56/Madan Mohan) Aye jaan-e-wafa.. (Anarkali/53/Basant Prakash), Khayalon mein kisikey.. (Banware Nain/50/Roshan) etc bear testimony to this. Geeta's versatility lay in her unique quality of singing. Give her blatantly westernised tune this moment and a complete classical composition the next, she will do justice to both. She portrayed passionately cosmos of pent up emotions in Na jao saiyaan chudda key baiyaan in Sahib Bibi Aur Ghulam (1962) under the baton of Hemant Kumar. Raat raat bhar intezaar hai dil dard se beqarar hai reflects her own desolute life.
The last songs of her career Mujhe jaan na kaho meri jaan, koi chupke se aa ke, Mera dil jo mera hota (Anubhav-71) and Aaj ki kali ghatta.. (Uski Kahani-1971) recorded by her brother Kanu Roy revealed that to the last moment the quality of her voice had neither faded nor deteriorated. It had its Midas touch intact. Excessive drinking told upon Geeta's health. She was in and out of hospital a few times. It was in harkisondas Hospital that on account of cirrhosis of liver she breathed her last on the July 20, 1972. She is out of sight but many of Geeta's songs endure in appeal even today and make us mourn in memory of her life so sadly cut short through emotional damage.