Net profit
Free textbooks
Frederick Noronha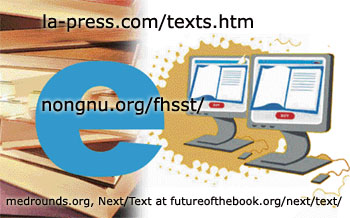 Obtaining free school textbooks via the Internet has increasingly become a realistic possibility, with many easy-to-share resources growing in cyberspace.
There have been global debates over the rapidly rising textbook prices with responses from teachers, students, schools and governments. Making textbooks affordable in different parts of the world has also become part of the growing debate. Now there are quite a few examples of textbooks being made available online, free of cost, though one hasn't heard about such initiatives in India.
While BookPower.org is free only to developing countries, the California Open Source Textbook Project can be accessed at opensourcetext.org and a similar project is on commontext.org. There are also free high school science texts at nongnu.org/fhsst/ and the Open Textbook Project at otp.inlimine.org. Critics have focussed on issues like the "textbook pricing crisis" and called for changing the world into a place where knowledge can be more easily shared.
Libertas Academica OA textbooks are available at la-press.com/texts.htm while MedRounds Publications can be accessed via medrounds.org, Next/Text at futureofthebook.org/next/text/ and the Potto Project at potto.org. Textbook Revolution is a portal and collection, and is often labelled the "best single site" at textbookrevolution.org and Wikibooks, linked to the Wikipedia project. It can be accessed at en.wikibooks.org/wiki/Wikibooks_portal. India-based activist Prabhala, who till not long ago headed the Southern African Access to Learning Materials project at the Consumer Institute, South Africa, works on issues related to accessing textbooks.
One of the recent studies he worked on was about barriers to access to learning materials in primary and secondary schools in selected "developing countries", with a focus on copyright law.
Yet another was on the feasibility of an 'open textbook policy' for primary and secondary education textbooks, to be adopted by the South African government.
Prabhala told IANS: "I'm not aware of any initiatives that create or distribute open access textbooks in India. One important example is the Free High School Science Texts project in South Africa (www.fhsst.org)." He argued that while it would "be great" to have such initiatives in India, the country already has cost-effective textbooks at the primary and secondary school level.
"This is partly because government mandated curricula (state syllabi and Central Board of Secondary Education) have a role in regulating the price of their learning materials," he said. Prabhala noted that textbooks in Karnataka were available online, were freely downloadable and could be republished, thanks to the Azim Premji Foundation that has been working with the state education department.
"So while in theory all government textbooks are open access — not all states, nor the central government, have their books up online," Prabhala said.
Technically, this also means that multiple publishers, could in theory, put out their own versions of the books at different prices and with different embellishments such as diagrams. — IANS