ulta pulta
Train of relatives
Jaspal Bhatti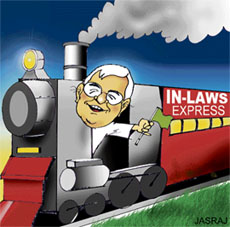 Imagine Lalu Prasad Yadav flagging off a train by the name of 'In-laws Express'. I know it will not be a surprise because he is capable of coming up with such weird, but highly successful ideas. If the idea turns to be a hit, more such trains like Sala Mail, Jamai Express, Super Saas could be launched with much fanfare.
Recently, the Railway Minister's brothers-in-law Subhash Yadav and Sadhu Yadav held up the Rajdhani Express by more than 20 minutes at Patna as they could not get reservation. People were furious when they came to know the reason for the delay. But had it been Sala Mail, no one would have the right to object.
Rules and regulations for each such special train would be different. Unless the in-laws of the Railway Minister had settled down properly, it would be unpardonable for the engine driver to blow the horn. Besides the in-laws of the minister, the relatives of members of the Railway Board would be issued Railway Gold Cards. They would get the best of all the comforts. One might even come across an announcement at a railway station saying "Since the mother-in-law of the engine driver of the Delhi-bound train is busy in a shopping mall, we regret the delay by another 45 minutes."
The TTE will have to be extra careful. If he finds anyone travelling without a ticket, he would have to double check, "Kya aap railway ke jamai to nahin?"