PUNJAB

HARYANA

JAMMU & KASHMIR

HIMACHAL

REGIONAL BRIEFS

NATION

OPINIONS

MAILBAG

BUSINESS

SPORTS

WORLD
ADVERTISEMENT
ADVERTISEMENT
Monday, July 16, 2007, Chandigarh, India
Updated at 3:00 am (IST)

LoC could become line of peace
Talks with Pak to continue: PM
Jammu, July 15
Expressing hope of Jammu and Kashmir becoming a symbol of India-Pakistan cooperation rather than conflict, Prime Minister Manmohan Singh today announced that India would continue the dialogue process with Islamabad despite "difficulties".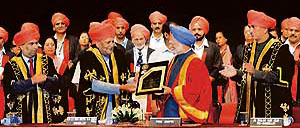 Prime Minister Manmohan Singh receives the degree of doctor of letters (honoris causa) of the University of Jammu from Governor and chancellor S.K. Sinha in Jammu on Sunday. Chief Minister Ghulam Nabi Azad and vice-chancellor Amitabh Mattoo are also seen in the picture. — Tribune photo by Anand Sharma
Medicines likely to cost more
Chandigarh, July 15
The prices of certain medicines, including vitamin B complex, are set to rise following certain changes in its export policy by China, according to sources in the pharmaceutical industry.

CAST YOUR VOTE
Is giving free power to farmers viable?



India: The Tasks Ahead
SPECIAL SUPPLEMENT
125TH ANNIVERSARY CELEBRATIONS,
INAUGURAL SESSION



CHANDIGARH

LUDHIANA

JALANDHAR

DELHI

HIMACHAL PLUS

HARYANA PLUS
New

AMRITSAR PLUS

LIFESTYLE

BRIDES WANTED

GROOMS WANTED

OTHERS

HOW TO PLACE ADVTS
HOROSCOPE
Dhanni Deeh Mass Rape
Victims record statements
Bhinga, July 15
The testimonies of the wronged women of Dhanni Deeh village made it clear beyond doubt that they were disrobed, beaten up, paraded naked in the village and faced 'beizzati'— a term which for lack of proper vocabulary they could not further describe.
8 Hemkund pilgrims die of oxygen scarcity
Dehra Dun, July 15
As many as eight Sikh pilgrims, mostly from Punjab, have died so far due to lack of oxygen and related problems during the Hemkund Yatra which began on June 1.
Haneef not be extradited to UK: Australia
Melbourne, July 15
Indian doctor Mohammed Haneef, charged in connection with the last month's failed car bomb attacks in Britain, will not be extradited to the UK while proceedings against him continue in Australia, according to attorney general Philip Ruddock.



'Slack' probe against Kafeel concerns sleuths


E - Revolution 2005:
A Two-day IT conclave

Assembly Elections - 2005

Turbans

Chandigarh is 50

EARLIER FEATURES
Indian core team leaves for 123 talks
New Delhi, July 15
A core Indian team, headed by National Security Advisor M. K. Narayanan, left for Washington today, for addressing the last mile problem in operationalising the Indo-US civilian nuclear cooperation agreement.



N-deal: Ball in US court
Nehru, Edwina were in love: Pamela
New Delhi, July 15
"Love blossomed" between a "lonely" Jawaharlal Nehru, the first prime minister of the country, and the last Viceroy of India Lord Mountbatten's wife, Edwina, who had had other "lovers" before, says her daughter.
Sabeel, Haneef charged
July 15, 2007
Lax rain worries Punjab
July 14, 2007
Abducted FCI official dies in crossfire
July 13, 2007
Pak on alert as masjid cleared of militants
July 12, 2007
Ghazi killed as troops storm Masjid
July 11, 2007
Evidence shows involvement of Haneef: Minister
July 10, 2007

Jehadi CDs seized from home of terror suspects
July 9, 2007

Iraqi doc first to be charged
July 8, 2007

Sensex leaps to 15,000
July 7, 2007

8 militants fleeing Lal Masjid held
July 6, 2007