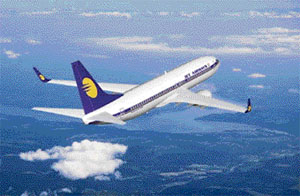 Staff crunch slows Take-Off
Snehesh Alex Philip
With a recent study pointing out that the global airline industry will need 25,000 planes by 2025, in addition to the 17,000 that will already be in service, a shortage of pilots along with other key crew and support staff is a major worry for the aviation industry, which is now exploring newer ways to beat the crisis looming large. "The new planes will require more than 18,000 new pilots every year," according to Alteon Training, a wholly owned subsidiary of the Boeing Company within Boeing Commercial Airplanes' Commercial Aviation Services group, which recently came out with the figures.


Careercature
Sandeep Joshi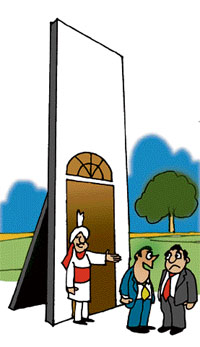 We don't need employees in our company. We believe in outsourcing.

CRUNCH OF THE MATTER
IT faces shortfall of skilled hands too
S.C. Dhall
The growth in the IT sector is likely to be slowed down unless one looks at ways and means to tackle the problem of "skill shortage". According to reports, the high growth rate is not being supported by adequate supply of skilled manpower, especially in the IT sector.


Royal Bank of Scotland to double India headcount
British banking giant Royal Bank of Scotland, which has countered its compatriot rival Barclays' takeover bid for largest Dutch bank ABN Amro, plans to double its India headcount to about 1,000 employees by the end of this year.


Outsourcing work goes into Reverse Gear
Andrew Buncombe
At the well-tended Bangalore campus of MindTree Consulting there is an air of quiet but determined industry. Casually dressed employees walk briskly to the coffee shop or else gather to chat on the closely clipped lawns. One can almost hear the gentle purr of activity at this international IT consulting company, which last year cleared more than $100m ((pounds sterling)50m) in revenues.


Bits & bytes
Recruit-on-mobile service launched
One of India's leading job portals, Clickjobs.com, has announced the launch of its mobile integration service for employers — Recruit on Mobile. With this new service, the portal aims to open new avenues in the recruitment process by connecting the employer with the job seekers through SMS.


Working strategy for lay-offs
Mary Ellen Slayter
What would you do if, when you walked into work tomorrow someone told you to head right back out — along with many of your co-workers? It happened to about 3,500 Circuit City workers last month. "Overpaid" retail workers were the target of most of the cuts, but the ranks of workers at the company's headquarters also were thinned by the company's decision to outsource information technology operations to IBM.


Stress as a speedbreaker
I.M. Soni
Perhaps, it has not crossed your mind that although success and stress are close kin, they work at cross purposes. Stress produces a war of attrition against your success, especially in the career push. You have to overcome it.


Human factor in M&As
The rosy picture of India Inc's acquisition spree both at home and abroad could dissolve into a nightmare if employee-related issues post-M&As are not taken care of strategically. While the acquisition of Anglo-Dutch steel maker Corus by Tata Steel and Arcelor by NRI tycoon L N Mittal-backed Mittal Steel are worth taking pride in, such deals are making the employee issue more complex.


Career Hotline
Fruitful pursuit
Pervin Malhotra
Q I am a qualified nutritionist. I would love to write or develop health-related programmes for the media. Where can I study health journalism in India to prepare myself better?