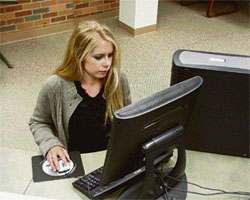 The growth in the IT sector is likely to be slowed down unless one looks at ways and means to tackle the problem of "skill shortage".
According to reports, the high growth rate is not being supported by adequate supply of skilled manpower, especially in the IT sector.
India might be training more information technology professionals than most other countries. Yet, the sector is facing a severe talent crunch.
Companies are finding it difficult to fill vacancies. While IT companies are projected to hire 3,00,000 professionals by the end of 2007, the country's 1500-odd engineering colleges will churn out only 2,00,000— 1,00,000 short of the demand.
More importantly, only a small fraction of these have a good grasp of fundamentals and are employable. The bottomline is — these schools are not churning out the right talent. This is reflected in the low selection ratios.
India's information technology labour force has been growing by 30 per cent a year, with the total headcount currently at 8.50 lakh. Indeed, the pace of expansion has thrown up concerns of its own.
First, the evidence suggested that recruitment is mainly happening in large companies. There is a concern that this flight to scale could widen the gap among the Big Three — Infosys, Wipro and TCS — and their-medium-sized rivals.
Second, a rising proportion of the new positions are for people with three to five years of experience. These candidates are in short supply largely because the industry is young, resulting in lucrative pay deals, which stokes wage inflation in the sector.
A third worry is that rapid growth in staff numbers tests a company's recruitment processes. Infosys now receives lakhs of applications annually, a five-fold rise in three years.
IT companies typically spend $5000 to $8000 on training new recruits, but they often leave within a month of qualifying, usually to seek higher education. The bigger companies are also training staff on a scale and to a level that is equal to a university-level degree. A long-term solution would be to raise the supply of engineers from India's colleges, which produce 1,75,000 top-notch engineers each year.
By 2010, the country will face a shortage of at least 5,00,000 knowledge workers. The country will need 2.3 million professionals to meet the $60 billion export revenue target by 2010.
The problem of skill set shortage can be combated by creating certain focussed knowledge zones, as it is more a problem of quality than quantity. There will be a need for 10-12 integrated knowledge cities in the next five years to tackle these problems.
IT companies have been tying up with educational institutions and impart training as per their requirements. As a result, several medium and small-sized IT companies prefer to take software professionals that come through references.
Nearly 50 per cent applications come through references. In such cases, the rejection rate is very less.
The shortage of professionals has also resulted in a high attrition rate in IT companies. The average attrition rate in software companies has doubled in the last couple of years to 20 per cent, compared to 10 per cent in 2004-05.
As per reports from the TCS, the shortage can be met only by training students other than those from engineering and science streams in the IT.
The major enablers needed to generate talent include investment in education and skill development, innovation and creation of the right environment.
Talent is not just availability but suitability as well. Out of the numerous engineers produced in the country, only a few are fit to meet world standards, a report says.
Companies are moving closer to campuses to improve their manpower requirements because the supply of educated manpower seems to be dwindling and the demand from IT companies is rising.