NTSE: 14 Apeejay school students make it to final
Tribune News Service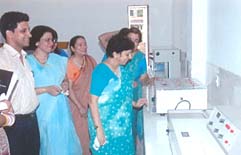 An advanced molecular biology and biochemistry laboratory was inaugurated at Hans Raj Mahila Maha Vidyalaya in Jalandhar.
Jalandhar, July 19
Fourteen students from Apeejay School have made it to the final round of the National Talent Search Examination (NTSE). The students have passed a written examination conducted at the national level and are preparing for the most rigorous hurdle, a viva, to be held in the first week of August.
The students clearing the last step will be awarded scholarships till they finish their studies up to the PhD level. Those who have made it till the penultimate round are Nitish Gupta, Rohan Sardana, Aminesh Gupta, Valleri Aggarwal, Smarth Behl, Varun Ahuja, Karan Sumra, Gurdarshan Singh, Harsimran Singh, Sahil Gupta, Lakshya, Aseem Handa, Shreyak and Prabal.
Talk on drugs
A programme for awareness on drug de-addiction was organised jointly by the district police and the Citizens Welfare and Protection Council at ND Victor Model School. Superintendent of Police (city-1) S.K. Kalia said drug de-addiction was an important part of policing as most crimes were committed by addicts. Council general secretary Anoop Vatts said easy availability of drugs, bad social company, disturbed family life and desire to make a quick buck were the causal factors for addiction.
Faculty induction
A two-day faculty induction training programme was organised at the CT Institute of Engineering, Management and Technology. JIET director L.N. Mittal discussed effective teaching techniques to develop entrepreneurial skills, thinking abilities, learning-to-learn skills and problem-solving skills in students. He stressed on student-centred learning experience like tutorials, practical work, drawing, seminar experience, project work and industrial training and gave an effective matrix for teaching learning work.
Labs inaugurated
An advanced molecular biology and biochemistry laboratory and animal tissue culture laboratory with sophisticated instruments were inaugurated in the biotechnology department of Hans Raj Mahila Maha Vidyalaya. Principal P.P. Sharma said the laboratories were equipped with cooling centrifuge, fermentor and BOD incubator.
New principal


Geeta Vohra is new principal of Govt College of Education.
Geeta Vohra has joined as the new principal of the Government College of Education. Earlier she has served as principal of Government College in Jandiala for more than a year.
Quiz contest
Students of the School of Legal Studies, Guru Nanak Dev University Regional Campus, Ladhewali, have participated in a quiz competition "Jawab theek hai" broadcast by Doordarshan. The general knowledge of students, Ravneet Kaur, Yatin Kumar, Manuj Nagrath, Bhavandeep Singh, Praisy Chanana and Guramrit Kaur, was put to test. The programme will be telecast on Friday at 5.30 pm.
Lovely topper
Jaspreet Kaur, a student of B. pharmacy (final) from Lovely Institute, has stood first in an examination conducted by Punjab Technical University. She has scored 81.5 per cent marks.