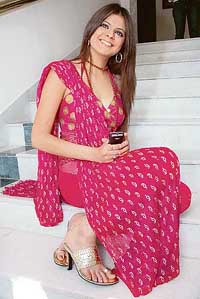 Age No Bar
Light sparkling eyes smiling vivaciously, complimenting the broad smile playing on her dainty lips, and an impressive necklace of beads highlighting the halter-neck kameez — strikingly beautiful and spirited Rucha Gujarati looks so very different from the role she plays on the small screen. One look at her and its hard to imagine the 20-something is actually playing a bhabi's role in a Star Plus afternoon soap. After all, Rucha is young, gorgeous and full of life. Bhabi, we all know, is middle-aged and homely. Ask her and the twinkling star says she is absolutely comfortable playing the role that marked the beginning of a new episode in her life. "I am a versatile actor and the role only gives me an opportunity to display it," she says.

Young & beautiful Rucha Gujarati is comfy in a bhabi's role. — Photo by Pradeep Tewari

City-based Subhash Sapru is the second Indian representative of the Photographic Society of America.
Life has come to a full circle for Subhash Sapru. It was in 1968 when his brother Brij Mohan Sapru gifted him a Click 3 camera to keep the then13-year-old Sapru busy. It initiated him into the world of photography and now almost four decades later Sapru gets another one from him, an expensive Nikon D80 and this time to mark his success. City youngsters are playing a different sport with hi-tech video games, says
Saurabh Malik
Fooling around with hi-tech video games may not be a child's play for you! But for the youngsters it's fun unlimited. As city kiddos combine an almost limitless arsenal of special moves and power-ups to unleash lethal energy on the screens, you realise that the stuff — too complicated for you even now — is just a walkover for them.

Lip Service
How good are sun-block lippers?
Cashing in unfairly on the craze for fair looks, multinational cosmetic giants are exposing city youngsters to the onslaught of products that promise complete protection from the sun's ultra violet rays.

New releases
New partners in comedy
It would be foolish to expect anything serious from a film's music if David Dhawan happens to be its director and his two favourites Salman Khan and Govinda, the lead actors. Partner is a film that promises Dhawan's trademark kitsch, slapstick and wit, all rolled together in an enjoyable comedy.

SIDELANES
Of fitness and fate
Six decades and three is no big deal. I still look presentable, eat well and do my back exercises and phoonkars every morning. The phoonkars, gratis Swami Ramdev, have kept cold and cough at bay for the past two years. It is either that the over 200 rhinoviruses are exhausted by this age or the good Swami's breathing exercises are effective for heart, lungs and the upper respiratory tract.

Master of Melody
Meet Salil Bhatt, the man behind the Satvik Veena
His quest for perfection always ends with Yeh dil maange more. For celebrated young Satvik Veena maestro Salil Bhatt, music is a living phenomenon with an attribute of growth towards a finality, which is never achieved because of its innate incessant dynamism. No wonder, the vibrant virtuoso insists that every musical tradition should be enriched from other resources to compete with the latest emerging musical trends in the world.

Youth speak
Drive safe
What is making the picturesque city ugly? Rash driving, negligence of the common man and the callous attitude of the concerned authorities. The above factors are responsible for the rise in the number of accidents, and it is high time that the drivers of cars, scooters, buses, auto-rickshaws and bikes are educated on road safety.

Exhi Watch
Whiff of Rajasthan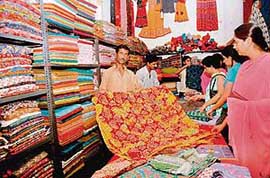 You may be flaunting that Louis Vuitton umbrella or a Gucci bag for perking up your snob quotient. However, an occasional easy-on-the-pocket spree doesn't really hurt. Especially so, when the stuff on display has it all— weather-friendly fabrics, exciting prints and of course, an army of vibrant colours! Well, the Krishna Paramparik Kala va Hathkar Udyog's Rajasthani exhibition at Panchayat Bhawan-18, promises all this and more.
Kylie back with Olivier
Rumours that Kylie Minogue is rekindling her romance with her ex-boyfriend Olivier Martinez have been fuelled further after the couple was spotted dining in Paris. The pair ended their four-year romance in February, after Martinez cheated on Kylie with actress Michelle Rodriguez and Israeli model Sarai Givati.