Law can take a backseat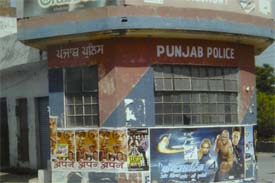 A police post in the city lies defaced with film posters.—Photo by Rajiv Sharma
Making a difference
Amritsar, July 20
Vimla Dang may look fragile but her life is a strong example of selfless service towards humanity. A veteran Communist leader, Dang is so determined in her resolve to fight for the poor and hapless sections of society that despite her failing health she is associated with a number of welfare projects for the underprivileged women and children.
Teen claims miraculous cure after holy dip
Amritsar, July 20
It's hard to believe but her faith did it for her. In a miraculous cure, Jitender Kaur, a 16-year-old girl, got her 80 per cent eyesight back, which according to her, happened just because she took dips in the holy sarovar and held ardas at the Golden Temple.
Amritsar, July 20
Prabhjit Kaur, a resident of Chowk Bhori Wala, has secured the first position in B. Tech (IT), eighth semester, examination of Punjab Technical University, Jalandhar, by scoring 90 per cent marks. She scored 795 out of 850 marks.



Prabhjit Kaur along with her family members celebrates her achievement.—Photo by Rajiv Sharma
DAV College introduces PG diploma in journalism
Amritsar, July 20
DAV College has started a one-year postgraduate diploma in mass communication and video production (PGD-MCVP) from the current session. Guru Nanak Dev University has granted permission to the college in this regard.
IT commissioner goes on a third poetic journey
Amritsar, July 20
Income tax commissioner B.S. Rattan, who is also a known name in the field of Punjabi poetry, has compiled his third poetry book.
Play on environment degradation
Amritsar, July 20
"Khuli Hawa Ki Talaash Mein", a CEVA Drama Repertory Company's presentation was staged at Spring Dale Senior School here on Friday. The company, set up by G.S. Chani, is a group of citizens who are activists as well as performers. The play explored the patterns and relationships between various issues concerning environment degradation.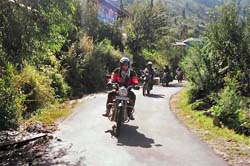 Exploring Himalayan beauty on bikes
Amritsar, July 20
The Himalayan Odyssey, an annual "pilgrimage" of the bikers from across the world, organised by Royal Enfield, reached its final destination in Amritsar recently.Bikers on 52 Royal Enfield motorcycles had embarked on a 14-day journey which took them to the most inhospitable terrains in the Himalayas, crossing some of the highest points like the snow-covered Rhotang Jot (13,030 ft).
'Better marketing a must for handicraft industry'
Amritsar, July 20
The industrial department in collaboration with National Centre for Design and Product Development organised a three-week training programme here.
Catch a PO, bag reward
Amritsar, July 20
Amritsar police has decided to honour cops who have nabbed proclaimed offenders (PO). In a release issued here the department claimed four POs have been arrested. While one of the accused, identified as Dilbagh Singh, was held by Kathunangal police. He was at large since April 2004 and was declared PO on August 2006 in a murder case.
'Kanyadaan' to be staged in city
Amritsar, July 20
Playwright Vijay Tendulkar's "Kanyadan" would be staged at Guru Nanak Bhavan on July 22. Directed by theatre personality Lillete Dubey, the play boasts of the best career performances by Ranedra Gupta, Radhika Apte, Joy Sengupta and Raaghav Chanana.