ART & LITERATURE

ART 'N' SOUL
ENTERTAINMENT

TELEVISION

GARDEN LIFE

NATURE

FOOD TALK

CONSUMER RIGHTS

HOLLYWOOD HUES

BRIDGE

ULTA-PULTA
EARLIER FEATURE

TRAVEL

RELATIONSHIPS

DREAM THEME

TIME OFF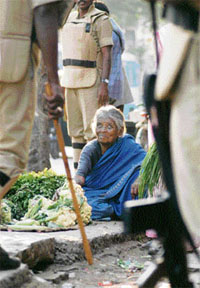 Bangalore shaken, not scared
The image of a peaceful, cosmopolitan IT hub driven by productivity has been shattered by the suspected involvement of the Bangalore-based brothers in the failed bombings in the UK. How far will the terrorist link impact the image of the cyber city, its brand value and business, finds out Jangveer Singh
Everyone knows how Bangalore evolved to its present state from a British cantonment to a centre for public sector undertakings. A residential city which acquired the sobriquet of 'the garden city' evolved to the status of the present-day IT capital of the country. Bangalore is the idea of a new India which is technologically driven and free from everything we associate with the badlands of the country—caste conflicts, riots, terrorism or simply an undoable business atmosphere.



'Fighting terror has been low priority'
Mission Munnar
Comrade on a bulldozer
The land-recovery drive led by Chief Minister V S Achuthanandan in Kerala has ruffled many a feather in political and business circles. Sajan Mathews on the much-hyped and controversial drive that has at the end of it all even put a question mark over the CM's campaign
Kerala never ceased to be in the headlines. The world's first ever elected communist ministry, the first state in India to implement revolutionary land reforms, the first state to achieve cent per cent literacy, pioneer in coalition politics, path-breaking forays in population control and healthcare. Yes, "God's own country" has accolades a lot and the saga continues.
Journey of discovery
Sudha Jhunjhunwala brings the story of the little known 13th-century Mahadev temple in Goa
Goa — the word today arouses images of sun, sand, palm trees with hammocks, churches and quaint houses. A veritable paradise for lotus-eaters, it also brings a feeling of deja vu.
In the name of the Father
Director Feroz Abbas Khan's Gandhi, My Father departs from the usual filmy homage to the Mahatma. Shoma A. Chatterji on how this film has created a different buzz in Bollywood
When Richard Attenborough made Gandhi many years ago, no one would have thought of Gandhi as a good bet for success in Bollywood. But times have changed and so have the average Indian filmmaker's perceptions about Indian history. Gandhi seems to be omnipresent in many recent Indian films in terms of ideology, metaphor and essence if not in terms of physical presence.
How Hollywood reads
Harry Potter and the Order of the Phoenix is a visual representation of a book in which millions of people are already heavily, even cultishly, invested,
writes Richard Schickel
I don't know if Harry Potter and the Order of the Phoenix is a good movie — I haven't seen it. But I'm pretty certain that it shouldn't be judged as a movie at all. When we see it, we are taking part in a ritual that addresses the old, and to me irrelevant, question of whether a film is "faithful" to its source — in this case, the fifth novel in J.K. Rowling's series about a brave and resourceful wizard manque. Of course, the picture will be faithful; there would be no point in making it otherwise.
Aamir in the remake of Gajini
After Kamal Hasan's Thevar Magan, remade in Hindi as Virasat with Anil Kapoor as the hero, shooting has begun for what will be the biggest Bollywood remake of a Tamil hit film. Shooting and recording are under way for the ambitious remake of the South Indian blockbuster Gajini, with none less than the pioneering Aamir Khan in the lead role.
Society
Fuelling dreams
Megha's petrol station has seven handicapped employees. She says though they are a bit slow, they make it up with greater effort, writes Aparna Pallavi on the polio-affected woman determined to take up the challenging business
A petrol station is not exactly a place where you would expect to get a lesson in social sensitivity. Yet, Megha Kale's petrol station, located near Sai Mandir in Nagpur, Maharashtra, is an exception.