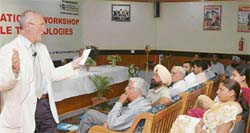 John Traxler, reader from Wolverhampton University, UK, speaks at an international workshop held by the CGC, Landran, on Monday. —A Tribune photograph
Chandigarh
STRIKE: A two-period strike was called at MCM DAV College, Sector 36, by the MCM DAV College Teachers' Union and the Non-Teaching Employees Union, here on Monday. The protest was held to press for various demands of the employees, including deducting provident fund on total salary and encashment of earned leave. The agitation has been going on for some time now, but it has not yielded results.
RESULTS: Dayanand College of Communication and Management declared the results of its postgraduate diploma courses. According to S.M. Sharma, the principal, girls have performed better than the boys.
ADMISSIONS: The details for admissions to the two-year NTT course at Raja Ram Mohan Roy Institute of Vocational Studies, Sector 27-D, is as follows: Last date for submission of forms - August 17, date of entrance test at GGSSS-23 - August 19, results of the entrance test - August 22 and date of the interview - August 23 and 24.
CONFERENCE: The mechanical engineering department of Punjab Engineering College will organise a two-day all-India conference on from October 5. Over 40 experts are expected to attend the conference. More details can be obtained from the following website: http: www.pec.ac.in.
TOPPED: Six students of DAV College, Sector 10, have bagged top positions in the MSc (zoology) 1st year examination conducted by Panjab University in April 2007. The toppers are: Divya Sharma, Shashi Raparia, Amrit Pal Dhillon, Jasbir Kaur, Madhu Singla, and Puja Thakur. Garima Ghai of MSc (zoology) 2nd year also topped the university.
Dera Bassi
VANMOHATSAV: Deepmala Public School organised a function on the occasion of 'vanmahotsav', here on Sunday. SDM Sohan Lal Bhumbak, who was the chief guest, began the programme by planting a sapling. Principal Anita Mittal and senior citizen P.D. Mittal honoured the SDM. A speech competition was also conducted on the occasion.
Mohali
WORKSHOP: An international workshop on mobile technologies was held by the Chandigarh Group of Colleges, here on Monday. John Traxler, reader in mobile technology from Wolverhampton University, UK, played host at the workshop. Traxler said the workshop aimed at giving an insight on how hand-held computers could be used in classroom teaching.
PLACEMENTS: All engineering students of the second batch of Guru Gobind Singh College of Modern Technology, Kharar, got placements with renowned companies. A total of 23 companies visited the college to recruit fresh graduates. Forty students from the management stream have also been placed.
FUNCTION: The inaugural function of the new academic session of National Institute of Pharmaceutical Education and Research (NIPER) was held at the institute's Convention Centre, here on Monday. Professor Ranjit Roy Chaudhury, an eminent clinical pharmacologist, was the chief guest. The function was presided over by Dr A.R. Kidwai, governor of Haryana. Thirty-seven students were selected for doctoral studies and 138 for postgraduate programmes. Over 400 persons attended the function. — TNS