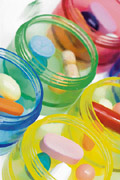 Get a dose of Pharma
Sunit Dhawan
Till a few years ago, there used to be a mad rush for admission to the MBBS and BDS courses. Almost all students passing the senior secondary school examination in the medical stream had a one-point agenda: to clear the PMT. Let alone the students, their parents were also crazy about their wards cracking the pre-medical test.However, this mindset has witnessed a radical change in recent times. The long and arduous path one has to tread for becoming a full-fledged (read specialist) doctor, coupled with the emergence of a vast variety of alternative courses, has made the students as well as parents realise the significance of other medical fields.
Where there is a pill, there is a wAy

Careercature
Sandeep Joshi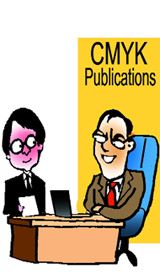 I don't need to see your resume, you look like Harry Potter.
Change from a negative to positive personality
I.M. Soni
Have you ever wondered as to who are the people you instinctively keep a distance from? And who are the ones you are attracted to?To the former class belong the scowlers and sackcloths. They are the gloomy ones who go about as if the world is coming to an end. They 'regale' you with their ailments. They virtually stink.

Nasscom to have single database for 1.6m IT employees
H.S. Rao
NASSCOM, the chamber of commerce and 'voice' of the IT software and services industry in India, plans to have, within three years, a single database National Security Registry for the 1.6 million people directly employed in the industry.

Motivating in time of change
Patricia Kitchen
Informing employees that they must change is one thing. Inspiring them to do so is quite another. Sure, you might say that the continuation of their paychecks is quite the motivation, and, in fact, it is. But plenty of people who are not truly won over have a knack for expressing willingness, while sabotaging in subtle ways.Several suggest these resources for bosses looking to learn more about what it takes to inspire.


Bits & bytes
Placements for retail course
The Asian Institute of Retail Management (AIRM), has been able to get 100 per cent placement for the first batch of its retail certification programme.The AIRM was set up by the Asian Education Society in April this year in association with a leading management institute, Lingaya Human and Technological Development Centre, Faridabad, according to Ashwani Luthra, patron of the AES.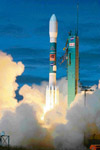 Space varsity set to take wings
Ramnath Shenoy
India's first space university is all set to take wings next month, seeking to groom tailor-made experts to fuel the country's satellite and rocket programmes."August middle is our target", said G. Madhavan Nair, Chairman of the Indian Space Research Organisation, which is setting up the Indian Institute of Space Science and Technology (IIST) and expected to meet the high technology requirements of ISRO.It would initially operate from the campus of the Vikram Sarabhai Space Centre at Thiruvananthapuram, a lead centre of ISRO, which will create a full-fledged infrastructure for IIST on a picturesque site in Ponmudi near the Kerala state capital in about two years.
.. and scientists to get more Space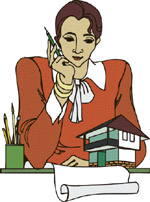 ROOM FOR MORE
Realty sector needs skilled hands
S. C. Dhall
Owing to a shortage of skilled manpower in construction companies, acquiring qualified workforce is becoming a key factor for realty firms.Project engineers with sufficient experience are in very short supply in the construction sector. The manpower crunch is also hitting the engineering design consultant space.Domestic construction companies have started acquiring firms that have specific execution capability in terms of people from Malaysia, Dubai, Egypt, Ireland, Israel and even vice-versa in a number of cases, as per requirements. Even Malaysian firms are providing training to a number of Indians from construction companies. On the other hand, a number of big developers have started visiting the Indian Institutes of Management at Ahmedabad and Lucknow to recruit management trainees.