M A I N N E W S
Top Satyam man abducted
Ramesh Kandula
Tribune News Service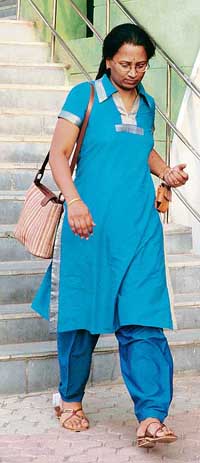 V. Kiranmayee, wife of general manager of Insurance Verticals Department of Satyam Computers, leaves the office of the deputy commissioner of police after lodging a complaint in Hyderabad on Tuesday. — AFP photo
Hyderabad, July 24
A top executive of IT major Satyam Computer Services was today kidnapped from a busy locality in the city under mysterious circumstances.
Vedula Satyanarayana, a general manager in the company, was allegedly whisked away by a group of four unidentified persons when he was coming out of Geetanjali Public School at Secunderabad after dropping off his children.
The abduction took place around 9 am but there were conflicting reports about the circumstances surrounding it. City police commissioner Balwinder Singh initially said the 40-year-old executive, a resident of East Maredpally area, had immediately called up his wife Kiranmayi and informed her that he was being kidnapped. Since then, his family has not received any call, either from him or from his kidnappers, it was stated.
Another report mentioned that he told his wife that he was in an urgent meeting at the office. However, her enquiry with the office revealed that no such meeting was scheduled.
"We received a complaint from Kiranmayi between 9.45-10 am that her husband has been kidnapped," assistance commissioner of police of Gopalpuram Division Y V Ramana said.
According to the complaint, Satyanarayana went to drop his two children at the school while his car was parked on the other side of the busy road. When he did not return, his driver, who was in the car, called up his residence to enquire about him. Soon after, when his wife called him on his mobile, Satyanarayana told her that he was fine and had to attend an urgent meeting.