PUNJAB

HARYANA

JAMMU & KASHMIR

HIMACHAL

REGIONAL BRIEFS

NATION

OPINIONS

MAILBAG

BUSINESS

SPORTS

WORLD
ADVERTISEMENT

Friday, July 27, 2007, Chandigarh, India
Updated at 3:00 am (IST)


Midnight coup


Congress set to lose Goa
Mumbai, July 26
After two days of suspense, the 49-day-old Digambar Kamat-led Congress government in Goa was reduced to a minority plunging the state into yet another round of political unstability.

Avian Flu
1.5 lakh birds to be culled in Manipur
New Delhi, July 26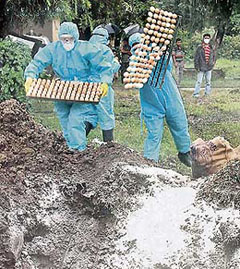 The Manipur Government, in its effort to check bird flu, today began culling of around 1.5 lakh chickens. Chief Minister O. Ibobi Singh held a meeting with concerned officials after avian influenza was confirmed in the state yesterday to determine the strategy to control and contain the dreaded disease.

Rapid Response Party, a medical team of the Veterinary and Animal Husbandry Departments of Manipur, throws out eggs and birds infected with bird flu at Mantripukhri Poultry farm in Imphal on Thursday. — PTI photo

CAST YOUR VOTE
Would organic farming be financially viable for farmers?



India: The Tasks Ahead
SPECIAL SUPPLEMENT
125TH ANNIVERSARY CELEBRATIONS,
INAUGURAL SESSION


ADVERTISEMENT

CHANDIGARH

LUDHIANA

JALANDHAR

DELHI

HIMACHAL PLUS

HARYANA PLUS
New

AMRITSAR PLUS

LIFESTYLE

BRIDES WANTED

GROOMS WANTED

OTHERS

HOW TO PLACE ADVTS
HOROSCOPE

Editorial: Bird flu in Manipur

US lawmakers take potshots at N-deal
Critics have begun lining up to take potshots at a nuclear deal struck last week between the USA and India even before both sides have had a chance to reveal the contents of the agreement.

PM briefs President, BJP on N-deal


BJP fears not fully allayed: Yashwant
Haneef case about to collapse; investigating officer dies
Melbourne, July 26
The Australian police has been asked to check if the "evidence" that led to the cancellation of Indian doctor Haneef Mohammed's visa in connection with the failed UK car bombings was "still correct", a minister said today, a day after the top prosecutor's decision to "review" the case.
| | |
| --- | --- |
| | |
| | HARYANA: Dalits for excluding 'creamy layer' |
| | HIMACHAL: Mayawati sounds poll bugle |
| | |
| | CHANDIGARH: Panic after fire in High Court |
| | LUDHIANA: Kamal loved someone else |
| | |
| | OPINIONS: Bird flu in Manipur |
In Science & Technology


E - Revolution 2005:
A Two-day IT conclave

Assembly Elections - 2005

Turbans

Chandigarh is 50

EARLIER FEATURES
American gets 15-yr jail for supporting LeT
New York, July 26
An American national, Mahmud Faruq Brent, has been sentenced by a court here to 15 years imprisonment for conspiring to provide material support to the militant outfit, Lashkar-e-Taiba (LeT).
Attack on CRPF camp:2 LeT men killed
Srinagar, July 26
Two suspected Lashkar-e-Toiba militants were killed when they attempted an attack on a camp of security forces injuring at least eight Central Reserve Police Force personnel at Zakura on Srinagar outskirts this morning.
Kapoor to be new Army chief
New Delhi, July 26

| | |
| --- | --- |
| Vice-Chief of Army Staff Lt. Gen Deepak Kapoor was today appointed as the next Chief of Army Staff. He would succeed Gen J.J Singh in the hot seat at the South Block when the incumbent Chief of Army Staff retires from service on September 30. | Lt. Gen Deepak Kapoor |
No blackboards in 90,000 schools
New Delhi, July 26
Nearly 90,000 elementary schools across the country do not have a blackboard, says a new government survey. While 7.37 per cent schools in rural areas did not have blackboards, about 9.06 per cent schools in urban areas lacked this facility, said the report "Elementary Education in India: State Report Cards 2005-06" prepared by the education think tank National University of Educational Planning and Administration.
In Haryana Plus today
In Jalandhar Plus today
Pratibha calls for inclusive growth
July 26, 2007
FIR registration must: SC
July 25, 2007
Shaken BJP suspends 5 anti-Modi MLAs
July 24, 2007
Speaker set to push 'no work, no pay' rule
July 23, 2007
123 deal signed and sealed
July 22, 2007
Pak CJ reinstated
July 21, 2007
U-turns but advantage Pratibha
July 20, 2007
Death for 3
July 19, 2007
Suicide bomber kills 15 at Pak lawyers' meet
July 18, 2007
Dera chief's convoy attacked
July 17, 2007
Talks with Pak to continue: PM
July 16, 2007