M A I N N E W S
Six convicted for killing Beant Singh
Quantum of sentence today
Vishal Sharma
Tribune News Service
Chandigarh, July 27
After an 11-year-long trial by a CBI court, marked with the shifting of six judges and punctuated by a stunning jailbreak, the order was finally pronounced in the Beant Singh assassination case here today.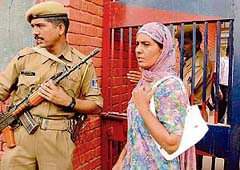 Baljit Kaur, sister of Jagtar Singh Hawara, who was not permitted to enter the Burail jail, stands in front of the main gate of the jail. — Tribune photo: Manoj Mahajan
Of the seven accused, six were convicted of various offences under the Indian Penal Code and the Explosives Substances Act while one was acquitted by CBI special judge Ravi Kumar Sondhi.
CBI counsel S.K. Saxena informed mediapersons, who were barred from entering the Burail Jail premises, about the order. He said: "Jagtar Singh Hawara, Gurmeet Singh, Balwant Singh, Lakhwinder Singh and Shamsher Singh have been convicted of offences under Sections 302, 306, 307, 309, 120 of the IPC and Sections 3,4,5 of the Explosives Substances Act. Naseeb Singh has been convicted of offences under various sections of the Explosives Substances Act only."
While refusing to comment on the merits of the order, he said that the quantum of sentence would be pronounced tomorrow at 11am.
The news by the CBI counsel that accused Navjot Singh had being held separately. Defence counsel A.S. Chahal, Navkiran Singh, Arvind Thakur and D.S. Chimny were not particularly pleased at the outcome and rued the fact that the CBI had deliberately dragged on the case for 11 years.
They lamented the slow pace of trial and said that the CBI had listed as many as 506 witnesses but during 11 years only 236 were produced and the rest were simply given up.
"The witnesses who were not questioned and given up affected our case badly. There were strong chances that many of them could have turned hostile. In fact, the trial could have been completed in four years," they asserted.
Navkiran Singh said: " The important point to be kept in mind is that the issue is not just any other murder but a political murder and someone has to go behind the reasons for that."
As expected, the defence lawyers were all geared up to take the battle to the Punjab and Haryana High Court.
Beant Singh, Punjab Chief Minister, was assassinated on August 31,1995, at 5 p.m. when his car was blown up by Dilawar Singh, a suicide bomber.
Besides Tara, other proclaimed offenders in the case Wadhwa Singh, Mahal Singh and Jagroop Singh were reportedly in Pakistan.

For Navjot, innocence came at a heavy price
Swati Sharma
Tribune News Service

Chandigarh, July 27
The Special CBI Court today acquitted Navjot Singh in the high-profile Beant Singh assassination case today as the prosecution during the trial failed to produce sufficient evidence of his involvement in the crime.
Navjot was charged by the CBI of providing shelter to the accused and assisting in assembling explosives, which killed former Chief Minister Beant Singh and others outside the Punjab Civil Secretariat on August 31, 1995. P 5