Awareness cry over SEZ hue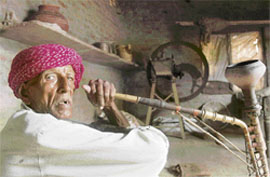 Activists in Haryana enlighten villagers over ill-effects of land sale
It's a hot, humid morning in northern India, but the oppressive heat does not deter a group of about 15 farmers from trudging door-to-door, offering advice and sometimes warnings.


Farmer Pratap Singh smokes a hukka pipe in his home in Neemana, some 100 km from New Delhi. Pratap was the owner of a 20-acre (eight-hectare) fertile field that yielded three harvests a year until his sons persuaded him to sell. — AFP
Growth pace slow in Punjab
Farmers happy as govt not to acquire land on company's behalf, notes Chitleen K. Sethi
The Board of Approvals, Government of India, approved two more special economic zones (SEZ) for Punjab. With this, the total number of approved SEZ in the state has gone up to 10. Compared to Haryana, where 49 proposals have been approved in-principle by the Union Government, Punjab's pace is sluggish.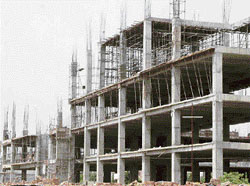 GRound REALTY
Avoid concreting on a cloudy day
Jagvir Goyal details on how to lay RCC slab
Among all activities involved in the construction of a house, the one that weighs heavily on the mind of the house builder is the laying of RCC slab. Guidelines on shuttering and reinforcement for the slab have already been highlighted. Here is a guideline to take complete control of this important activity and finish it in a perfect manner.
TAX tips
Tax law not very clear on the country of property purchase
Q. I left India about 10 years back and am settled in Canada presently. During my stay in India, I had built a residential house in Ludhiana, which has been let out to a company for the residence of one of its managers. I have no intention of coming back and, therefore, intend selling the said house. I understand that I will have to pay capital gains tax on the sale of the house. Is it possible for me to make the investment of the capital gains earned on the said house for buying a residential house in Canada and thereby save the payment of capital gains tax?
Prices jump on refinery springboard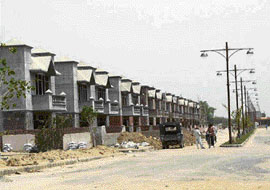 Investors throng Bathinda with residential project, hotel and educational institution plans, notes Chander Parkash
Bathinda started witnessing development of areas after the first thermal power plant of Punjab was set up in 1974. With the setting up of a big fertiliser plant by the National Fertiliser Limited (NFL) and Asia's biggest cantonment in this area, the town acquired prominence on the national map as far as industrial and defence matters are concerned.

Houses coming up in a residential colony being developed in Bathinda town. With the clearance of oil refinery project, being set up jointly by the Hindustan Petroleum Corporation Limited and business tycoon Lakshmi. N. Mittal, real estate business revived again. — Photo by S.S. Sonu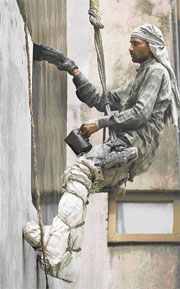 Watery threat
Rising shallow water table in southern parts of Chandigarh is posing threat to the very foundation of the housing structures, says Vishal Gulati
Are buildings in southern sectors of Chandigarh facing threat from underground shallow water? Studies conducted by the Central Groundwater Board (CGWB) of the Ministry of Water Resources say so. But this is only a part of the larger problem. Overall water table is declining in the deeper aquifers of City Beautiful. Talking to The Tribune, regional director of the board, Sushil Gupta, says the city is facing a problem of a different dimension. The water table in shallow aquifers is rising in the southern sectors. The rising water table results in seepage problems in the basements of the buildings.

Anand Mandal a migrant construction worker lays a coat of waterproofing compund to the outer wall of a house. According to CGWB, the water table in shallow aquifers is rising in the southern sectors of Chandigarh. — AFP
Scales tilt in favour of tiles


Punjab is an ideal testing ground, tilemaker tells Pradeep Sharma
Marbles and chips are passé now. Once a major requirement of many a dream house, it's the vitrified tiles, which have the caught fancy of builders and owners alike. Cashing in on the real estate boom in the country in general and Chandigarh's periphery in particular, the tile industry is witnessing an unprecedented revolution sparking off an intense competition among major players.
Buzz on Bourses
DTZ acquires Donaldsons LLP
Chandigarh: DTZ, a leading global property adviser, has acquired the business and assets of Donaldsons LLP. Donaldsons LLP, the privately owned, UK-based property consultancy, was acquired in a cash-plus stock deal for an initial consideration of £39.8 million plus deferred consideration of up to £8.8 million. According to a company press note, the merger will create a pre-eminent retail property adviser and open up Donaldsons retail and development capabilities to DTZ's capital markets strength and mutually reinforce many other practice areas.
Ambuja Realty plans public float

Puravankara Projects IPO

Lodha to invest in Mumbai

SNG project in Firozabad

MSP group to enter cement biz

House of Pearl's plan

Franklin ties up with AllBank

Bisazza glass for realty projects

DLF's multiplex biz