AUDIO SCAN
Gulzar recites Amrita Pritam
Amrita Pritam (Times Music)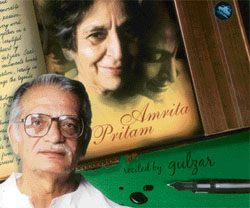 It is not only Gulzar's lyrics which have a huge fan following. He is also blessed with a baritone voice which mesmerises people. He has been reciting his own poems and also that of other masters in various mehfils and has also cut several discs, but this is one of those rare times that he has recited poems in Punjabi.
In fact, not many know that he is a pucca Punjabi. To such who know him only for his Urdu, his flawless Punjabi diction may come as a pleasant
surprise.
Each of Amrita's immortal creations is preceded by a commentary by Gulzar. His remarks are as profound as the flight of Amrita's imagery. Things become particularly moving when he speaks of his few meetings with the
poetess.
By the time you reach the end of this album after hearing her Partition pathos in Ajj Aakhan Waris Shah Nu, it is very difficult to keep one's eyes dry.
Music by Bhupinder Singh adds to the quiet grace.
A tastefully designed booklet distributed along with the CD presents the poems not only in Punjabi but also in English and Hindi. There is also a poem (Beej)
by Imroz.
Naqaab (Tips)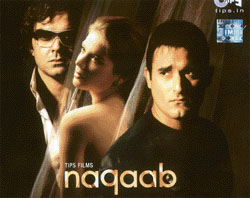 Music is normally the mainstay of Abbas Mastaan's fast-paced thrillers. So, the same was expected from this Akshaye Khanna-Bobby Deol thriller. But the magic happens to be missing in Pritam's creations.
There are some promising songs indeed but they are not the kind which can set the dance floors on fire.
This despite the fact that Akshaye plays a stage performer in the film and many of the dance songs are picturised on him.
Remix is the order of the cassette. In fact, there are just three songs, which have been redone ad nauseam. Ek din teri rahon mein is the one which holds its own. It has been sung separately by Javed Ali and Zubin Garg.
Aye Dil Paagal Mere happens to have three versions, one by Sunidhi Chauhan and two by Sonu Nigam.
Aa Dil Se Dil Mila Le (Alisha Chinai and Krishna) apes West Asian singing style, as the film is set in Dubai.
One free CD provided with the Naqaab album has old hits from the Tips stable, such as Pardesi Pardesi from Raja Hindustani and Aaaja Ve Maahi from Fida. Even these songs are not too happening. — ASC