Crisis looms large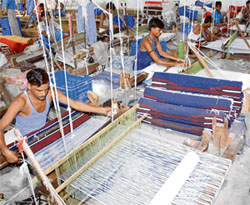 The once flourishing handloom industry in Panipat is today in distress. Geetanjali Gayatri looks at the many problems threatening the industry, which has now begun outsourcing work to Uttar Pradesh
Panipatís romance with handlooms is almost over. The industry which made this Haryana town the handloom capital of the region is now in the throes of a crisis. Employing over two lakh workers, the industry is plagued with labour problems, paucity of export orders and pending payments to suppliers.



Threat of closure

Weavers at work in a handloom unit in Panipat. The number of units in the district is gradually declining.
Eat right and be merry
Hypertension is affecting the young generation in a big way, the World Health Organisation has warned. But this may be just the tip of the iceberg with other lifestyle diseases creeping on unsuspecting persons. Tanni Gupta looks at health problems nagging todayís youth
Sonal Bothra (19) has a series of medical problems. Siddhartha Dutta (21) has a recurring back problem and an annoying knee joint pain that just wonít go away. They are just two of the many from Generation X who suffer from a series of medical problems that are usually not associated with the youth.
Brosnan to voice kid series
Hollywood actor Pierce Brosnan is set to be the new voice of Thomas The Tank Engine. The former James Bond will narrate the childrenís classic, Thomas & Friends, following in the footsteps of Ringo Starr, George Carlin, Alec Baldwin, Michael Brandon and Michael Angelis.
As lazy as us
Scientists at Stanford University, California, have said that robots must be made as lazy as possible in their gestures if we want them to be more interactive. The future will see more human-robot interactions, and humans will expect robots to move more like them. As such, robots should be made as lazy as possible if we want them to move around as gracefully as we do.