M A I N N E W S
Dominating the finds is this rare painted rabab

Nondescript gurdwara throws up rare treasures of Gurus' times
Aditi Tandon
Tribune News Service
Chandigarh, July 28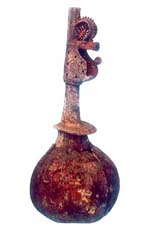 After ages of obscure existence at a gurdwara in Fatehgarh Sahib, a treasure trove of artifacts belonging to the period of the Sikh Gurus has been unravelled and documented.
Dominating the list of finds, comprising among other things two rare swords with Guru Gobind Singh's name engraved on them and 62 arrows, some mounted with a gold leaf, is a rabab, which appears to have been crafted in the 16th century. A precious find, this rabab has miniature paintings on it. This might well be the oldest existing painted stringed instrument in the country. The National Museum has painted instruments in its collection, but none so old.
Documented in detail by Dr J.S. Bhatia, senior art executive with Punjabi University, Patiala, the rabab is, at present, in a ravaged state and needs immediate restoration. There are visible structural similarities between the contours of this rabab and the one delineated in the Janam Sakhis.
"Circumstantially, it seems to have been made in the 16th century on the behalf of some Rajput king, who must have offered it to Guru Arjan Dev. The use of colours and technique is close to the Rajput style. It won't be wrong to say that the painter was either a Rajasthani or was deeply influenced by the Rajput school of art that flourished during 1500 to 1550 AD," explained Bhatia, who stumbled upon the treasure at Gurdwara Dera Baba Nattha Singh in Kapurgarh during his research on Sikh portrait paintings. There are references to Kapurgarh in the Sikh encyclopaedia.
Other precious finds in the gurdwara include the Guru Granth Sahib, whose opening page has an illustrated leaf bearing Guru Gobind Singh's portrait in Jammu Style. There are three chaurs (fly whisks of jute fibre), two ivory quivers, two battle axes, two shields studded with copper discs and a punch dagger bearing the image of Lord Ganesha.
It is believed that Bhai Nattha Singh, a devoted Sikh of Guru Arjan Dev's time or his descendants, preserved these for posterity. They first resided at Kiratpur Sahib, the headquarters of the sixth and seventh Gurus, and later shifted to Anandpur Sahib during the time of Guru Gobind Singh.
"History tells us that Guru Gobind Singh was forced to leave Qila Anandgargh in 1704 AD. At that time, the Sikhs carried their precious books, weapons and other historic artifacts with them. But due to flooding in Sarsa, most of these possessions were lost. Some were, however, lodged at safe locations. This theory is not foolproof. The collection is indeed a challenge for art historians," said Bhatia, whose study on the finds is under publication.
But one thing is clear. Whosoever brought the rare collection for safe keeping at Kapurgarh was wise, as this village was located in the areas liberated by Banda Bahadur after his victory in Sirhind in 1708 AD.