DHARAVI
Largest slum is prized real estate
Asia's largest slum sprawled over an area of 144 hectares and a population of a million is being redeveloped. Located on prime land with prices of real estate rivalling New York and Tokyo, from an eyesore the slum is all set to get a makeover. Shiv Kumar traces the evolution of Dharavi from a tiny fishing hamlet to a much sought after city property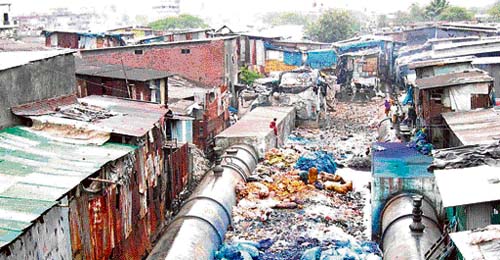 LONG before some politician thought of naming the road after his long dead ancestor, migrants who made Dharavi their home came up with a practical moniker for the main street that meandered through Asia's largest slum. 60-Foot road they called it, though shopfronts mirroring the expanding expectations of the residents had greatly reduced its width by the 1990s.
Kapurthala's crumbling heritage
G. S. Aujla says concerted efforts are needed to restore the town's palaces of yore that are in ruins
THE erstwhile princely state of Kapurthala which at one time could boast of one of the most beautiful edifices in North India, today has little to showcase when one visits some of the sites associated with the royalty. Among the many crumbling structures that speak of a neglected heritage are Nawab Jassa Singh's haveli; the Kamra Palace, also known as Gole Kothi; and Nihal Palace in the heart of the old town of Kapurthala.
'PAU has to reorient its research'
Gurdev Singh Khush is one of the most decorated agricultural scientists in the world. The long list of awards and honours received by him includes the Borloug Award, Japan Prize, World Food Prize, Rank Prize, Friendship Award of China, World Prize of Israel, Swaminathan Award, Padma Shri, fellowship of the world's topmost Science Academies and honorary Degrees of Doctor of Science by 10 universities of Europe and Asia.
From write-offs to right-ons
The next time, when an actor is down and out, don't count him out of the game just yet. Vivek Oberoi and other stars have managed to bring their careers back from the brink. J Kothari explores the phenomenon
IN the early 1970s, it looked as though the sun would never set on Rajesh Khanna's superstardom `85 but it did. The almost-total eclipse happened in the mid-'70s when film after film of his sank deeper than the Titanic, submerging his career along with it. Rajesh Khanna is fond of telling the story about how, pushed to his limits, he went up to the terrace of his bungalow and had an anguished conversation with God in the pouring rain.
Good special effects
Harry Potter and the Order of the Phoenix is strong on special effects but the plot is poor, writes Ervell E Menezes
SO the Pottering goes on and on and one seems to have lost count of them but the latest J.K.Rowling novel-turned-film is Harry Potter and the Order of the Phoenix. If Werner Herzog tried to humanise Dracula in Nosferatu, here Rowling makes the witches less fearsome which is commendable. But at least, an absorbing drama should have been strung together.
Handsomest man with false teeth
HE was one of the sexiest men in showbiz with his dark brooding looks but Clark Gable was a bit challenged when it came to his teeth. Gable's former co-star and love interest Anita Page reveals that the actor had false teeth and that 'rotting stubs in his jaw smelt something awful'.
Shakira set for charity gigs
POP star Shakira will be doing her bit to help out kids in need by unveiling a campaign to raise $200 million to combat juvenile malnutrition and hunger in Latin America. The 30-year-old has joined hands with ALAS Foundation (Latin America in Solidarity Action) and revealed her intentions at the organisation's event at Panama's Teatro Nacional earlier this month.
Batting for common man's cinema
Feroz Nadiadwala, producer of such outlandish escapist dramas as Hera Pheri, Awara Paagal Deewana and Fool 'N' Final, is going in for an image makeover Nadiadwala, who has decided to adopt avant-garde filmmakers into his production house in a big way, has signed on a bouquet of auteur filmmakers such as Sai Paranjpye, Kundan Shah, Aziz Mirza and Prakash Jha to give his company a more 'festive' profile.
Radio making waves
S.P. Sharma on popularity of FM radio in J&K
Within a few months of having come to Jammu and Kashmir, the BIG 92.7 FM has not only revived the radio culture in state but has also created ripples across the border in various parts of Lahore in Pakistan. The youngsters who till now did not relish listening to radio can now be seen tuned to the FM.
To bee or not to bee
A new study has found that the mystery behind queen honeybees extreme promiscuity serves the purpose of producing more productive colonies. Cornell researchers Tom Seeley and Heather Mattila have found that queen honeybees mate with dozens of males in order to produce genetically diverse colonies that are far more productive and lasting than genetically uniform colonies produced by monogamous queens.
SOCIETY
In love with India
Hundreds of young Englishmen and women like Pamela Stuart left India in 1947 but could not come back for various reasons. Did they also suffer the loss of belonging and identity like us who resettled as a nation was reborn? Seema Chopra meets the woman who spent the best years of her life in India
Pamela (80) is not of Indian origin. Yet India was part of her life as much as she was a part of India. Pamela Laing (now Stuart) was born, brought up and married in India. After India's Independence, she had to move back to England. Pre-1947 Pamela lived in India like an Indian and consequently fell in love with her country of birth. Cooking the perfect Indian curry and speaking just the right Urdu diction reflect her Indianness.