ban the bulb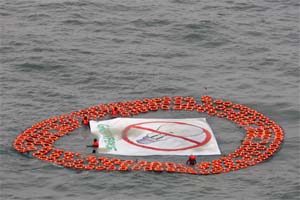 Greenpeace activists create a huge life preserver out of small life preservers in the Arabian Sea off the coast of Mumbai on Wednesday. A "ban the bulb" logo floats in the middle as part of a Greenpeace campaign for a legislation aimed at phasing out incandescent light bulbs by 2010. — Reuters
Maoists kill 1, blow up two railway stations
Ranchi, August 1
One person was killed and 17 injured in two incidents of firing by CPI(Maoists) activists, who also detonated bombs in two railway stations during their 24-hour Jharkhand bandh that began on midnight last night.
DSGMC-run Institutions
'10 pc seats for those who later join Army'
New Delhi, August 1
In a unique and perhaps the first effort of its kind, the Delhi Sikh Gurdwara Management Committee today decided to ensure that at least 10 per cent of the students who pass out from its four technical institutions in the Capital join the Army's engineering service.
Trinamool MLAs gherao speaker
Kolkata, August 1
Speaker Hashim Abdul Halim was gheraoed in the assembly on the last day of the budget session today by agitated Trinamool Congress MLAs. They were demanding the arrest of senior CPM leader Benoy Konar for misusing the House for party purposes which, they felt, had tarnished the sanctity of the House.
Newspaper wage boards to meet today
Kochi, August 1
The two national wage boards for working journalists and other newspaper employees set up by the Union Labour and Employment Ministry will meet here tomorrow. The boards are chaired by former Madras High Court acting Chief Justice K Narayana Kurup.
Tata Project
Karunanidhi calls Jaya a liar
Chennai, August 1
The war of words between Tamil Nadu Chief Minister M. Karunanidhi and Opposition leader and All-India Anna Dravida Munnetra Kazhagam supremo Jayayalithaa over the proposed titanium dioxide project of the Tata group climaxed with the ruling DMK president virtually calling her a liar and she threatening to file a defamation suit against him.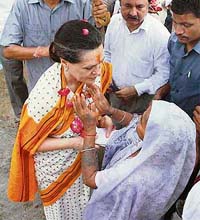 BLESSINGS FOR THE BAHU: Congress president Sonia Gandhi arrives for a public meeting in Halora, near Rae Bareli, on Wednesday. — PTI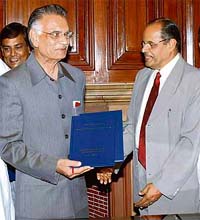 Union home minister Shivraj Patil receives the draft paper of 'National Policy on Criminal Justice System' from Prof N R Madhava Menon in New Delhi on Wednesday. — Tribune photo by Manas Ranjan Bhui
Save-Yamuna efforts take roots
New Delhi, August 1
As a first step towards "saving the Yamuna" and stopping the construction of the 2010 Commonwealth Games village on its riverbed, environmentalists today planted trees at the proposed site to urge the government to instead make a "panchvati of five types of trees" at the ecologically sensitive location.
Mass suicide by physically challenged vendors
Toll rises to five, media's role to be probed
Lucknow, August 1
The toll in the tragic mass suicide of physically challenged roadside vendors in Varanasi rose to five. One more person is still battling for life in the Banaras Hindu University hospital said Home Department secretary Mahesh Gupta.
Artistes' drive to save wildlife
Guwahati, August 1
A large group of leading artistes and wildlife activists in Assam have come together to launch a 'save wildlife' campaign in Kaziranga National Park calling upon the masses to chip in to protect the precious one-horned rhino and other animals in the UNESCO world heritage site.
Bird flu: Mizoram declared vulnerable
Aizawl, August 1
Sandwiched between Bangladesh, Myanmar and Manipur, all affected by the dreaded avian influenza, Mizoram has been declared as the most vulnerable state, animal husbandry and veterinary principal secretary Vanhela Pachuau said today.
Imphal scribes protest ultras' threat
Guwahati, August 1
All newspapers published from Imphal (Manipur) didn't hit the stands this morning as the journalists in the northeastern state resorted to indefinite strike since last night in protest against militants' threat to The Sanghai Express, the largest circulated English daily in the state.
Tea garden executive abducted
Guwahati, August 1
Unidentified armed gang of miscreants abducted a tea garden executive from Dhekiajuli in north Assam's Sonitpur district last night. The abducted executive is a son of former Assam legislature Bhimananda Tanti from the Congress.
New envoys to Russia, Libya
New Delhi, August 1
The ministry of external affairs today announced three ambassadorial appointments, including that of P.P. Shukla to the Russian Federation. Shukla (IFS 1974 batch) is presently Indian High Commissioner in Australia.
New Rly Board chief joins
New Delhi, August 1
Ramesh Chandra, an officer of the 1968 batch of the Indian Railway Service of Electrical Engineers, has taken over as the new chairman of the Railway Board. He succeeds J.P. Batra who retired today.


Labour leader dead
Pune, August 1
Bharatiya Mazdoor Sangh (BMS) founder president Ramanbhai Shah (81) died after cardiac arrest here today. Shah was born in 1926 into a business-cum-agriculturist family at Talegaon Dabhade near here. He started his career in Swatik Oil Mills, Mumbai, but quit after a decade to join the workers movement by joining the BMS through the RSS cadre. — UNI

Videos
Vidya goes glam in Hey Baby
(56k)
Shilpa Shetty to receive Rajiv Gandhi Award.
(56k)
Clock offering to banyan tree.
(56k)