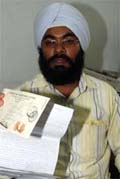 Khaki Inaction
Police violates SC directives in lodging FIR
Jalandhar, August 2
Contrary to the Supreme Court directions, the district police has failed to register an FIR on the complaint of Avtar Nagar resident, who alleges that he has been receiving threats on his mobile for over a month. Talking to The Tribune, complainant Kuldip Singh said he had gone to the Bhargo Camp police post of division number 6 several times along with ex-councillor of the area Hans Raj after receiving threats and also submitted a written complaint for lodging an FIR but no case has been registered till now.
Young World
Scouts and Guides Day celebrated
Jalandhar, August 2
The centenary day of Scouts and Girl Guides was celebrated in Dayanand Model School, Model Town. On the occasion, the Scouts and Guides gave presentations and took a pledge. Since the day was being celebrated as 'Plant for planet campaign', the school staff and students also planted saplings as a part of celebrations.
The song of life
She may have seen only 12 springs in her life, but Riya Madan has lived each moment to the fullest, exploring the joys and the sorrows that life has to offer. And the countless pleasures and sorrows she's experienced during her journey, find an expression in her poem — Life Is A Journey, which has won her the Grand Prize at the international contest— 'New Voices 2007'— organised by EPIC (Electronically Published Internet Connection).