10 Things 2 do b4 you say 'I do'
Purva Grover
You have begun to differentiate between chiffon and georgette. A small pimple on your face becomes a matter of family concern. The fact that you have only black, brown, grey or blue to choose from suddenly bugs you. You think of discarding your old pair of denims today and stuff it in your suitcase the next day.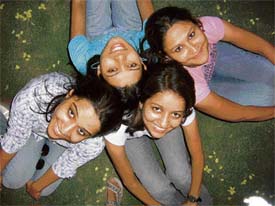 Bride-to be...
This is the time to remind yourself that no matter how much in love you are with your would-be, you are after all marrying a GUY! And, regardless of the sweet nothings you exchange, you have to accept him (and his family) with his unreasonable logics, sudden outbursts and soiled towel thrown in the living room…so, girl party hard before the D-day!
Wake up, take a shower and get hold of a pure white towel. And, dance to Mere Khwabon main jo aayee…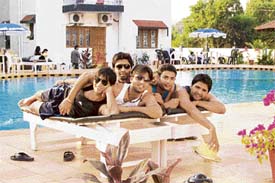 Groom-to-be...
Crushes, break offs, falling in love with your girlfriend's best friend—you have done it all. And, now it's finally time to spend your entire life with just that one girl! Phew…quite unfair. So dude, rock before you set out for the roller-coaster ride. Here's how.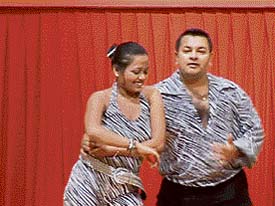 Salsa Rocks
Saurabh Malik
After twirling their way to celebratory status at the Hong Kong Salsa Congress, the only certified instructors in this part of the region Varun and Barsha are all set to make the city dance to their tunes. Yup fellows! The young couple is all jived up to start the first of its kind dance studio in the country right here in Chandigarh. Just in case you are walking the floor over the concept, here are the details. The couple will teach over 30 dance styles, including Latin, Western and Indian, all under one roof.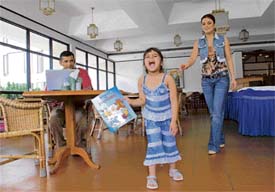 Starved of manners
Parbina Rashid
You take out time from your busy schedule to spend an evening with your friends. It's difficult to be 'at home' with friends at home, with the mother hovering around and siblings lurking behind the curtain. You need a neutral place to appease all your senses—showing off that pretty dress you bought during the last sale, catch up with the latest gossip and of course, good food!So you dash off to the new restaurant that you've been reading about in the food page of the local editions.
youth speak
Greed for Green
Puneet Garg
City denizens' greed for greenery became evident last month when a demolished nursery in Manimajra saw a large number of people rushing to the spot to grab plants. The city is known for its greenery. Looking at the neighbourhood parks and the flower beds in people's homes in any of the sectors of the city bear the testimony that we indeed live in the Garden City.
Planning to re-do your bedroom? Think bright colours, frescos and Swarovsky-embedded ceilings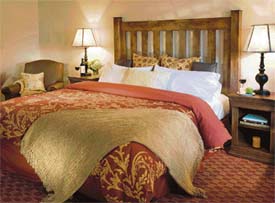 My kind of room
Anandita Gupta
It's undergone a revolution, worthy of a telecast on the History Channel. Something like the Titanic's British women in puritan gowns transforming into Bond girls! Or, the plain-Jane Jassi (and now Ugly Betty) turning a figure-flaunting, fashion diva. And no, this is not about a 40-something Shekhar Suman suddenly appearing in the muscle-rippling avatar. It's rather about a room in your house. Not the much talked-about-bathroom ( you've recently started calling it the restroom) that you spent thousands on.
Lull(a) before the storm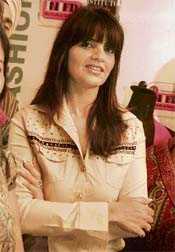 Saurabh Malik
Tying the knot at exotic locations across the country, the would-be-brides are nowadays parting ways with the traditional wedding wear. You may find it incredible, but so many of the prospective brides have actually come to parting of the ways with the good old, time-tested and still-considered customary lehnga-choli. Well, if you still haven't paired off with the idea, Bollywood's hottest fashion designer Neeta Lulla spills the beans. Life Style follows film style and this stitching sensation is the best gal to tell you all about it. Having designed the trousseau for Ash-Abhi's celebrated wedding (she was behind the scenes till the big day working on Ash's mehndi and the wedding outfit), Neeta's all clued in to the latest trends in wedding outfits.
Little Interview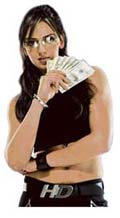 Cashing in on her oomph
Smoky eyes, oval face and low-waste hip-hugging trousers… If you are watching Esha Deol in the promos of Anubhav Sinha's Cash, you will be dazzled by her oomph. In Cash Esha plays a robber. Getting a new lease of life after Dhoom, Ankahee, No Entry, Dus, Kaal, Masti, LoC Kargil and Honeymoon, Esha is getting all the right attention with her glamorous role in Cash. While talking to Life Style about her looks, she says, "All this is for the film. That is not the real me. Viewers like to see a good body."
SIDELANES
Hats the planters wear
Joyshri Lobo


Planters — the two-legged variety, scores of them, accompanied by their wives and children, elegantly attired, genteel, exuding typical planter confidence and charisma. We met up with them at a wedding. All retirees, they had led luxurious, almost Victorian lives in huge bungalows located on far off plantations. Their homes were the last true bastions of the British Raj.