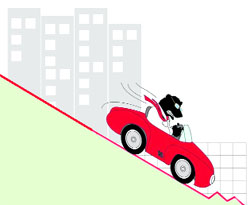 Investors take stock of realty
Real estate sector emerges as a safe and lucrative option after the recent upheavals on the Dalal Street, says Peeyush Agnihotri
The stock market tanked for the fourth time this year. A number of factors contributed to the two recent 'monsoon' crashes — FII pullout, global cues and more recently, RBI's check-inflation policy.



Indian realty scrips most expensive
MFs preferred in Bangalore
Residents discover that buying a house for investment is no longer a lucrative option, notes Jangveer Singh
Information Technology made Bangalore. It also made its landlords who made new laws to suit their interests. Sample this — a 10-month cash advance cash deposit is de rigueur in the city as well as a 10 per cent annual increase in the monthly rent.
HOME DECOR
A step ahead
Devendra Malik talks about the latest trends in staircase designing
Stairs, staircase, stairway, stairwell, and flight of stairs are all names for a construction designed to bridge a large vertical distance by dividing it into smaller vertical distances, called steps. Stairways may be straight, round, or consist of two or more straight pieces connected at angles.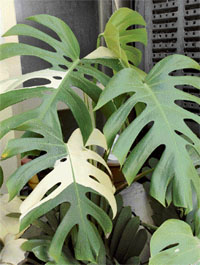 GREEN HOUSE
Variegated beauties
Satish Narula details on a few hardy indoor plants
It is established beyond doubt that indoor plants play a crucial role in cleaning air inside. We thus find two roles, aesthetics and environment cleaning. When it comes to plant selection for indoor display, we normally get complaints against normal growing, leggy, pale and sick growth or even premature mortality. There is another big problem; selection of the suitable plants for indoor display that are not harmful. Plants like Dieffenbachia look pretty but are dangerous for indoor display, especially when there are toddlers. Even an accidental ingestion of sap could cause partial paralysis of the trachea. The person is unable to speak for a few hours and suffers excruciating pain. It is because of this reason that the plant is called Dumb Cane.
Indian granites for country of knights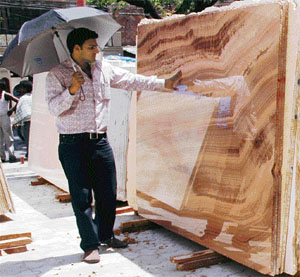 Scots adopt Look India policy to cut on quarrying and post-mining costs
Winds of economic change in recent years have forced Scotland to import granites from India to feed the booming local construction industry. The durable stone hewn from the once great quarries at Rublislaw, Kemnay, Alford, Dunecht, Peterhead and numerous other locations was used by skilled craftsmen and architects to shape the form and character of the city over a period of two centuries. However, the industry's decline has led to a 'Look India' policy because of the high cost of quarrying, cutting, polishing and transporting granite within the UK.
TAX tips
Bank finance, draw of lots and treatment of interest
By S.C. Vasudeva
Q. I am a government employee and had applied for 200 sq yd plot advertised by PUDA at Patiala. The application money of Rs 89,000 was financed through Punjab National Bank @ 10 per cent per annum. I have not been allotted any plot in the draw held by PUDA. Hence, I have incurred a loss of Rs 6,000. Can it be shown in ITR as loss against house property and adjusted against any other income or not. Is there any other alternative?