fashion
For your eyes only
This season it is for the eyeshadows to look bohemian and the hot colours are shades of pink. If you are used to browns and other earthy shades, try these colours for a change, writes Dipti Rai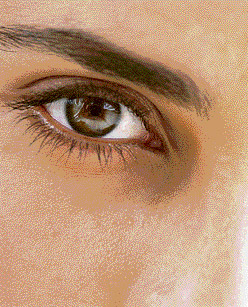 You are all dressed up for the party. But when you look at the mirror, your eye make-up makes you look as if you have got a black eye. Faulty eye make-up can really damage your appearance as it is the first item guests notice. Bollywood make-up experts say: "Your eye area gives the largest scope for make-up as you can create different looks and use different techniques to blend an array of colours." If you team your kohl and mascara with a bit of shimmer or colour, you can change you very appearance, as these beauty aids come in several formulations—-each with a unique finish. With good eye shadows that blend easily, you can, even as a beginner, succeed in creating a heavy smokey eye or a soft daytime look.
If you find eyeliners not your forte, then you can opt out for powder eye-shadows that also can work as eyeliner as long as the colour is compactly pigmented. If you use it in tandem with a fine tipped brush, you can get the softest natural look.
The importance of eye-shadows cannot be overstated. The most important reason is that they add depth and definition to your eyes. Further, they give an "opening up" look to your eyes, in addition to adding depth and definition. The right application can make your eyes look the way you want—-small, big, set closely together or set apart.
This season it is for the eye-shadows to look bohemian and the hot colours are shades of pink. If you are fond of browns and other earthy shades, try these colours also but ensure a dash of shimmer is added. But the favourite colour is still pink, as there is a shade of pink for every skin colour.
Go for frosty and rosy pinks (for fair complexions), deeper hues like browny pinks (for whitish skin tones) and pinks with an undertone of purple or blues ( for dusky shades).
It is very essential that you get the correct effect and, as beauticians explain, all women who revel in the correct lipsticks find it difficult to apply the correct eye-shadow. It does take practice to find the correct combination of eye-shadow suited to you.
Saroj Chandra of Lakme beauty parlours gives tips to ensure that you look good in eye-shadows. Cleanse the eye area thoroughly so that there isn't any product residue. Use a concealer under your eyes.Use an eye-shadow base on the socket. Eye-shadows should be applied in layers. So take pale, medium and dark shades of colours. Start by applying the in-between colour in a circular motion from the outside corner of your eyes to the inside socket crease with a sponge tip.
Use the darker shade with a fine-tipped eye-shadow brush, close to your lash line. Then apply the lighter shade all over the eye area, mainly in the middle of your eyes. Use a highlighter on your eyebrow bone to enhance it. Finish with a coat of mascara to add brightness. The modern era of mascara is believed to have begun in 1913 when a chemist named Thomas Williams concocted for his sister Mabel a lash coating made out of vaseline and coal dust. For the last 40 years, most tube mascaras have used applicators made out of twisted wires surrounded by tufts of nylon strands for application..
Mascara magic
Consider the types of mascara and select one appropriate for your lashes and the occasion. You have a choice of lengthening, thickening, long-wearing, conditioning and water-proof formulas, among others. For day you might decide to add length, while a night on the town may require a long-wearing or thickening formula. Select a color. Darker-lashed women can consider brown for a casual look, and black or brown-black for more pronounced or dramatic lashes.
Curl your lashes with an eyelash curler, if desired, and apply all other eye make-up prior to your mascara. Remove the wand from the tube in one pull. Pumping the mascara will push air into the tube, potentially drying out the formula and introducing bacteria into it. Begin with the underside of your upper lashes, moving the brush slowly upward toward the tips of your lashes. Always hold the wand parallel to your eyelid. Roll the brush slowly on the upward stroke to promote separation of the lashes. Allow the first coat of mascara to dry before applying the second coat in the same manner.
Use an eyelash comb to separate the wet lashes. Also blot the lashes with tissue paper, if necessary, to remove excess mascara. Use less mascara for the lower lashes. Begin where the lashes meet the rim of the lower eyelid, and gently stroke downward. Remove any stray mascara around the eye with a cotton swab dipped in a small amount of eye make-up remover. —MF