Boeing bonanza
Boeing is the latest pie in the sky. Indian airlines like Air India, Jet Airways and Kingfisher have ordered 138 Boeings of various specifications. To boost its flagging operations, Air India alone has pitched for 68 such hi-fliers. On board Air India's first Boeing 777-200 LR, A. J. Philip recounts the historic non-stop flight from the US to India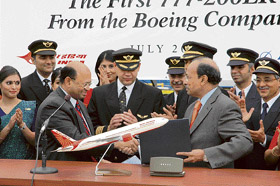 Air India's chief V. Thulasidas (right) and Vice-President, Sales, Boeing Commercial Airplanes, Dinesh Keskar, at the signing ceremony
AFTER a gruelling flight of over 24 hours with two stoppages en route at Frankfurt and Los Angeles, it is a test of endurance we — a group of journalists from India — have to undergo in the name of security before boarding a Delta flight to Seattle in Washington.
Entreaties that we are late and the flight will leave any moment do not make any impact on the security personnel who go about their job coolly. And when my hand baggage is detained for a physical verification, I feel I have missed the flight.
The lady operating the baggage-checking machine calls out a gum-chewing young lady to do the follow-up. She takes the bag to a corner and tells me, "Now don't touch any of the objects till I am through". My heart begins beating feverishly.
One by one, she takes out everything in the bag. Then she takes a piece of white cloth and rubs it all over the laptop. The cloth is then put on a machine that instantly detects any explosive device. Fortunately, the result is in the negative.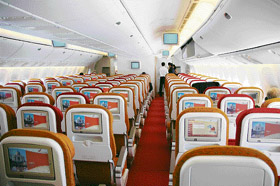 Every passenger has an individual video monitor

Not satisfied, she takes out the toiletry pouch and has a close look at the after shaving lotion and the soon-to-be-finished shaving cream. Then she takes the toothpaste and examines it as if she has never seen such a thing. She keeps it apart, puts all else in the bag and zips it. "No, you can't carry this", she says in a definitive voice.
That is the end of my new Promise toothpaste which cost me all of Rs 45. Anyway, she may have found something promising in Promise, I console myself. It is nerve-racking to be one of the last passengers to board the flight.
I become nostalgic about my previous visit to the US when I became, perhaps, the last Indian journalist to visit the twin World Trade Center towers in New York before 9/11 brought them down. The security checks were lax at the JFK airport. I could meet and have tea with two college mates even after obtaining the boarding card.
At Seattle, when we pour out our agony to an Air India official, he has these consoling words, "As an airline official, I don't mind any security checks as they are in the interest of the passengers themselves". Come to think of it, there has been no terrorist attack in the US since 9/11. Our security personnel who look here and there when bags are screened have a lot to learn from their American counterparts.
From the sky, Seattle looks like stars in the galaxy. Unlike the Los Angeles airport, which is in a terrible state thanks to the $780 million modernisation underway now, the Sea-Tac International Airport looks sprawling, prim and proper. From the airport terminal to the Exit gate, it is a long walk. Special vehicles ferry the old and the infirm.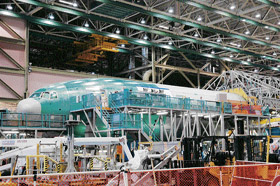 The Boeing factory is bigger than Disneyland. — Photos by the writer
By the time we check into Renton Clarion hotel — motel will be a better term — it is past midnight. Whoever has chosen the hotel will have noted the Treasure Casino in its proximity. Even for a long-time resident of Washington like K.P. Nayar of The Telegraph, the casino is a surprise.
Jetlag and general weariness compel me to sleep longer than I am used to. Fortunately our hosts Air India and Boeing have not planned any programme till 1 pm. But to sleep longer will entail missing the free breakfast at the hotel. Having missed the dinner, none of us can afford to do that. Everything in the restaurant is cold except coffee and tea.
Americans do not have the concept of a hot breakfast. A former colleague Chidananda Rajghatta has an interesting take on it. "Corn flakes are eaten with cold milk so that they do not lose their crunchiness in the mouth. But when it was introduced in India, people started using hot milk with the result that they lose the crunchiness". What he misses most in the US where he is posted, is what he calls, "the infinite variety of breakfast items like idli, upma, dosa and parantha back home in Bangalore".
Rather than loiter in the shopping mall, I decide to join the optional tour to Snoqualmie Falls, about 40 km east of Seattle, where the Snoqualmie river cascades 270 feet through a spectacular rock gorge. When Linda Lee of Boeing, who is our guide, tells us that the Falls are 100 feet higher than the famed Niagra Falls, it whets our curiosity. The drive is splendid through one of the most beautiful areas of the city. The Falls are one of Washington state's most popular scenic attractions.
From the observation platform the Falls can be viewed in all its majesty. But for those of us who have seen the Niagra Falls, it is a disappointment. Snoqualmine Falls do not come anywhere near the numerous water falls that can be seen at Cherrapunji in Meghalaya during the rains.
While watching the Falls, we do not see any trace of a power project. But there are two power plants buried behind the walls in solid rock which generates 41,990 kilowatts of electricity, sufficient to serve 16,000 average American homes. "Today, nearly a century after start-up, the four original generators are still producing power", says a brochure.
We return to the hotel to get ready for the main event of the day – a dinner to celebrate the delivery of the first Boeing 777-200 Longer Range aircraft. We drive past downtown Seattle, the skyline of which resembles New York's, to reach Waterways Cruises. The dinner is on board Emerald Star.
It is seven when the cruise on Lake Washington, the second largest lake in Washington state after Lake Chela, begins but the sun is still bright. Mount Rainier, which is a stratovolcano, located 87 km away, looks majestic from the boat. Everybody seems to be in a celebratory mood. Adding a dash of colour is a bunch of beauties. They are Air India airhostesses who have come to serve on the ferry flight.
Our host is Scott Carson, president and chief executive officer of Boeing Commercial Airplanes. Few people know that Boeing has civil and defence components which are run differently. Carson becomes nostalgic when he thanks Air India for giving Boeing the "largest-ever" single order of 68 aircraft. He is a second generation employee of Boeing. In the sixties, it was Carson's father who flew a Boeing aircraft that Air-India had bought all the way from Seattle to Bombay with two or three stoppages on the way.
Dusk descends as the cruise progresses. As we move past Medina waterfront, we can get glimpses of Microsoft chief Bill Gates' house located in a wooded area. An American flag in his compound serves as an identification mark.
Champagne flows as Scott Carson presents to Air India chief V. Thulasidas a memento which, as the latter says, will be showcased in the Chairman's office in the Air India building in Mumbai. By the time the dinner is over, night has fallen. The 76-storeyed Columbia Centre and the taller Space Needle, a defining symbol of Seattle, glow in the distance.
For most of us, a visit to the Boeing factory the next day is the high-water mark of the trip. We first go to the Customer Experience Centre, not far from the hotel, where Boeing customers can see different kinds of seats and seat combinations they can choose from in an aircraft-like environment. An ultra-modern three-dimensional presentation is bound to take the visitor off his feet.
At the press of a button, hundreds of lights illumine on a large map of the world. Each light represents a Boeing aircraft in the sky. Boeing seems to be in an upbeat mood. The Economist writes, "In 10 years Boeing has gone from an introspective prot`E9g`E9 of America's Department of Defence to a global civil aviation giant. It has outsourced production to contractors in America and found international firms, notably in Japan and Italy, to join in as risk-sharing partners, making much of its successful new 787. Boeing has taken the lead in developing new technology to make big aircraft more efficient, more economical and more eco-friendly.
"Airbus, meanwhile, has fallen on hard times with delays to its flagship A380 and to the launch of its rival to the new best-selling Boeing long-haul jet. Work shared between France and Germany led to a lack of coordination and delays on the A380 that have cost billions. And the rise of the euro against the dollar has made much of its production uncompetitive. Most of Airbus's costs are in euros, but aircraft are priced in dollars".
The Seattle Times has a lead story that mentions that Boeing had a $1 billion quarterly earning that beat expectations while raising hopes of a $4000 bonus to all its employees.
After a "media roundtable", where the only table is rectangular, in which Thulasidas and Dinesh Keskar, Vice-President, Sales, Boeing Commercial Airplanes, answer our queries, we leave for an exotic restaurant on the waterfront.
Later, at Boeing's Everett factory, Mike Callaghan takes us around. It is one of the biggest factories in the world. "Much bigger than Disneyland" as Callaghan puts it. After all, building large aircraft requires space. Altogether 138 Boeing aircraft of various specifications have been ordered by Indian airlines like Air India, Jet Airways and Kingfisher.
"Please don't take photographs of those areas of the aircraft where the airline's name is written", advises Callaghan. "Which is the most difficult part of making an aircraft?" I ask a Boeing employee. "Electric wiring" pat comes the answer. What excites Boeing most is the Dreamliner aircraft it unveiled on July 7. It chose the day for the premiere because the date, 7-8-07 the way Americans write it, coincided with the new plane's series: 787.
Air India itself has given orders for 27 Dreamliners while Jet Airways has ordered another 10. But we cannot see any as it is being manufactured in a different part of the factory to which we have no access. Now we have a choice, either to go to an Indian restaurant for dinner or go shopping. Most of us prefer the latter. I make the mistake of not buying a Toshiba 2GB RAM, 250 GB HDD, hi-fi laptop available for $940.
We have to get up early to go to Boeing's Everett factory premises to catch the ferry flight. As we arrive, the gleaming Boeing 777-200LR, christened Andhra Pradesh, is waiting for us. Makeshift US security, customs and immigration counters are in place as we are given a pure vegetarian breakfast. After a brief signing and ribbon-cutting ceremony, we board the aircraft.
For Captain Amitabh Singh and Captain Cyruss M. Edekar, it is a proud moment as they are piloting the first-ever non-stop flight of an Indian commercial aircraft and that, too, over the North Pole, between the US and India. Of course, they had test flown the aircraft the previous day. M. Chikliwala, the seniormost airhostess, was on the ferry flight the previous time Air India bought a Boeing, which was over a decade ago.
Chikliwala spends most of her time training airhostesses. "The airhostess academies train them, at best, to wear sarees. In contrast, we train them on every aspect of the plane, apart from teaching them about the different kinds of wine and cheese served on the flight", she waxes eloquent.
As the plane take off quietly, we have a clear view of US Air Force One parked nearby. It is time for champagne. Dinesh Keskar, the seniormost Indian on the Boeing staff, is bubbling with enthusiasm as he takes us to the upper deck where the off-duty crew can sleep comfortably in a bunker. There are two bunkers for the pilots, which are even more comfortable.
About 250 hours of in-flight entertainment is available to the passengers, who can choose with a remote attached to their seats in the First and Executive classes. Every seat, including Economy, has an individual monitor. There are as many as 17 Hindi movies from Aa Gale Lag Ja to Khosla Ka Ghosla to choose from. There are four Malayalam movies, not to mention Punjabi, Telugu, Marathi, Tamil and Gujarati films.
After 14 hours and 15 minutes, we reach Delhi with no jetlag, no fatigue. As we descend, Air India employees receive each of us with garlands. After all, we have become the first Indians to fly non-stop in an Indian aircraft from the US coast to India. Thanks to Air India, we make history.