TELEVISTA
Perfect script for Bollywood
Amita Malik
No Mumbai script-writer could have done it better. A young doctor in a foreign country being accused of terrorism. Arrested at the airport when flying home to see his newborn daughter. Father-in-law pays for his one-way ticket as he is short of funds but suspected of fleeing the country because of that. Detained and sent into solitary confinement. Spirited young wife keeps up a steady barrage of appeals to the Prime Minister while hinting that her husband is being persecuted because of racial bias.
Protestors in Australia hold demonstrations for freeing an 'innocent' man.
The Government of India maintains diplomatic secrecy. The Australian Government trips on false evidence. Has to acknowledge mistakes but confiscates visa. However, it cannot prevent the young doctor from flying home, escorted by his Australian lawyer and a burly-looking relative.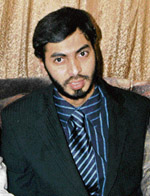 Dr Haneef
Mobbed on return to Bangalore airport. Drives home to wife and newborn daughter with difficulty. Welcomed at home with biryani and sweets. As I said, a perfect script for a Mumbai film with a happy ending thrown in. Much more romantic than Abhishek-Aishwarya wedding. Karan Johar, how about it? You could even shoot it in Australia.
And through it all, both the Australian and Indian media behaves with impeccable responsibility and thoroughness. Personally, I found the questions by the interviewer from an Australian TV channel a little offensive: "Are you a terrorist? Have you had training in terrorism? Have you visited Pakistan and Afghanistan?"
I presume her intention was to get those questions about Dr Haneef raised by the Australian police and government and answered personally by Dr Haneef—-which he did with utmost dignity and sincerity. And the Indian media fell back on excerpts from it whenever its chase of Haneef got bogged down. Considering that Haneef was competing with the cricket Test in Nottingham, he stole the thunder with ease. And human interest won over sport. Front-page headlines gave equal status to Haneef's return and the wrong decisions by umpire Taufel which felled both Sachin Tendulkar and Sourav Ganguly and deprived them of centuries. You can't ask for more.
I hope I will be forgiven if, in the middle of all this drama, I found diversion in some very funny advertisements. Trying to prove that it was the cheapest airline, one saw first a young man with long unruly hair singing and bouncing about on his seat in the plane. Music festival or dance festival? asks an elderly person. "No man,I am going for a haircut as all the local saloons are shut". Next, a homely-looking housewife, being asked by her upper class fellow passenger if she is off for a summer holiday or visiting her daughter. "No", replies the woman, holding up a pair of crumpled striped pyjamas. "He went on a toor (sic) and forgot his pyjamas. So I am taking them to him".
Upper class passenger collapses. It is not often that advertisers display a subtle sense of humour. So we must thank them when we get to see such ads, howsoever much we blame them for holding up the continuity of interesting programmes.