Flying high at 75
B. G. Verghese
Himalayan Eagles: History of the Indian Air Force (Volumes I, II & III)
by Pushpinder Singh. The Society for Aerospace Studies, New Delhi. Pages 612. Price not stated.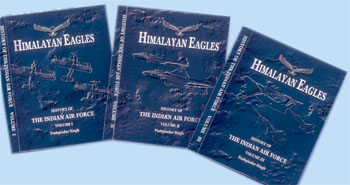 It is a pity that so little of India's military history has been written. This is partly because Indians seem somewhat unhistorical and have often left it to others to write about themselves. However, excessive classification has also been greatly inhibiting. The fear of revealing too much to the "enemy," even long after the event, has resulted in making known too little to our own people, including servicemen, who would find such critical accounts or even bare information inspiring and instructive. Security studies in India are no longer off-limits to non-military scholars and more servicemen are beginning to write on broad themes or offer a worms'-eye view; but not nearly enough. Too much has been left unsaid, especially about defence doctrines and policies in between sadly unreported campaigns. The Kargil War, an extraordinary feat of arms, has unfortunately been narrated largely in political terms.
The Kargil Review Committee's detailed narrative is still under wraps and the IAF's heroic part in it "security deleted"—as the Air Force itself, alas, shied away from telling its story. All the more pleasing to have Pushpinder Singh's splendid three-volume history (and pre-history) of the Indian Air Force, with its most absorbing illustrations and anecdotes, published (March, 2007) under the auspices of the Society for Aerospace Studies.
India ranks among the early pioneers in the air with a Bleriot monoplane assembled and flying in Allahabad in December, 1910. But 1911 was annus mirabilis, with demonstration flights in Calcutta, Madras and Bangalore, the first military air observation demonstrations at Poona, and the world's first official air mail, piloted by a Frenchmen from Allahabad to Naini, a distance of eight miles each way flown in 27 minutes.
An Indian Central Flying School was established at Sitapur in December, 1913, commanded by an officer of the 29th Punjab Regiment, though the Secretary of State for War had wisely warned, "we do not consider that aeroplanes will be of any possible use for war purposes." May his soul rest in peace. The outbreak of World War I saw a small Indian Flying Corps assigned for defence of the Suez Canal against a Turkish attack. This formation was soon absorbed in the Royal Flying Corps, which later formed a squadron based in Nowshera to defend the North West Frontier from Afghanistan. Hardit Singh Malik was the first Indian pilot to join the RFC/RAF, serving in France, soon to be joined by Indra Lal Roy, awarded the DFC, and two others, Welingkar and Naoroji. Only Malik survived the war.
The first air action in/from India was in the NWFP, and a bomb dropped on Amir Amanullah's palace in Kabul in 1919 helped bring the Third Afghan War to a close. The RAF deputed six squadrons to India, located in the NWFP, Baluchistan, Punjab and Raisina village (Delhi) as part of an Indian group under the C-in-C India. The Frontier continued to boil and in 1922, Lord Birdwood, C-in-C Northern Army was to say that he would be prepared to withdraw five battalions from the forward areas in exchange for two good squadrons of the RAF! Air support was provided and, amusingly, as late as 1934, aircraft in Miranshah in North Waziristan had to be wheeled into and secured within the Fort at night. Among the aircraftsmen on duty there was T.E. Lawrence.
Post-war demands for Indianisation of the armed forces and the subsequent Skeen Committee Report sowed the seeds for the birth of the IAF on October 8, 1932. It was manned by six Cranwell trained Indian officers, among them Subroto Mukerjee, and joined by a cadre of Havai Sepoys (aircraftsmen). There was a corresponding impetus to civil aviation, with JRD Tata playing a leading role.
World War II saw a surge in the IAF's growth and expansion, including the establishment of HAL and the rapid induction of new aircraft, jets and transports. 1940 saw the formation of the IAF Volunteer Reserve, which was tasked for coastal defence until the Japanese sweep through Southeast Asia, the first Burma campaign, in which the IAF played a notable part and the gallant defence of Kohima and Imphal, where the tide was turned. The second Burma and Arakan campaigns brought the IAF into the main line of action with "Jumbo" Majumdar, Aspy Engineer, Arjan Singh and many others winning acclaim.
Independence brought new responsibilities and challenges. A hurriedly improvised air bridge to Srinagar saved Kashmir in October, 1947, and Mehar Singh created history by landing in Leh in 1948. Poonch was relieved and later Siachen air supplied, like much of Arunachal even today.
One of the great "ifs" of the Indian military history is what would have happened had the IAF been used to interdict the Chinese in 1962 instead of belatedly turning to the US and the UK. In 1971, a pinpoint rocket attack on Government House in Dhaka crystallised the Pakistani commander Lt Gen Niazi's decision to surrender.
The story goes on: indigenous manufactures, new technologies, new strategic concepts, new responsibilities as part of India's nuclear triad, jointness, talk of an aerospace command, rescue and relief as part of an integrated disaster management effort, overseas operations as in the Maldives, and more. None of this is or should remain an esoteric or forgotten story. There is much to learn and be inspired by in Pushpinder Singh's telling of it.