Food talk
Filling aloo
Pushpesh Pant
Potatoes are arguably the most common if also not the most popular vegetable on the sub-continent. They are the staff, if not the stuff, of life. The Irish revolted when their potato crop failed and the Swiss treat it respectfully in rosti. The shepherd's pie in England has a thick enough potato wall to enclose the mince and the fish 'n' chips are inseparable like siamese twins. Can the ubiquitous burger survive without the support provided by French fries?
We don't have to consult an encyclopedia to confirm that in the Andean heights, where the starch-rich vegetable originated, the potato is treated like the daily bread. We have long wondered why we can't enjoy the potato in a balanced one-dish meal?
Janardan Dhyani, a young talented chef working in the Capital responded to the challenge by creating what he calls, rather romantically, kishti dilruba- tandoori aloo. It is packed with a m`E9lange of vegetables topped with a swirl of sour cream, complete with a boatman —an olive-headed toothpick!
What we share with our readers is a variation that can be easily prepared at home without a tandoor or oven with more than enough scope for improvisation. If you are in the mood to exert and dazzle your guests go right ahead and serve the bharwan aloo on a bed of thick sauce-like gravy — with or without onion — garlic, tinged with saffron or laced with kasuri methi. On second thoughts we must concede that kishti dilruba is a more apt description for this beauty that has jaw-dropping potential.
KISHTI DILRUBA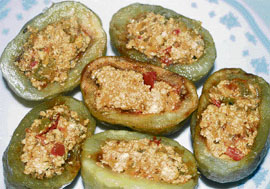 Ingredients
Large potatoes Six
Paneer 200 gm
Royal cumin (shahi jeera) `BD tsp
Red bell pepper `BC
Tomato (washed, cored and cut in small diamonds) Medium
Raisins (wash and remove stem) 1 tsp
Pine nuts (chilgoza, shelled) 1 tsp
Kashmiri lal mirch `BC tsp
Garam masala (optional) `BC tsp
Dry mint (crushed) 1 large pinch
Salt to taste
Oil to deep fry
Method
Peel the potatoes and scoop out the core ensuring that about 1 cm remains intact. Reserve the core for some other use. Heat oil in a thick-bottomed deep pan till the potatoes acquire a golden hue and appear crisp. Remove and place on kitchen towel to remove excess fat. Crumble the paneer. Heat a little oil on a non-stick pan and quickly stir-fry the paneer for about two minutes. Sprinkle salt, red chillies and dried mint along with the garam masala, if using. Now add the raisins, pine nuts and diamonds of tomato or bell peppers. Mix well to blend. Remove from flame and fill the hollowed potatoes with this mixture. Bharwa aloo are equally tasty hot or at room temperature.
For a lighter dish you may begin by parboiling the potatoes and then baking them. Replace the paneer filling with hung yoghurt spiked with preferred raita masala, pineapple tidbits an olive or two (chopped coarsely) and for a much more sinfully substantial celebration you may top the stuffing with grated process cheese and put the potatoes under the grill to let the mouth watering stuff melt.