Isle of leisure
This is one of the best gaming spots of the world, matching Las Vegas casino for casino. But there's more to Macau than just blackjack and roulette. The island offers a rich Portuguese and Chinese cuisine and has some magnificent monuments, writes Anurag Yadav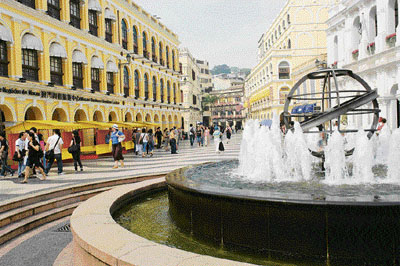 The island is catching the fancy of tourists keen on casinos
Legend has it that a ship sailing in the South China Sea was hit by a devastating storm. Everybody gave up hope, when a young girl started praying. Miraculously, the storm stopped and calm returned. The girl then stepped ashore and walked to the crest of a hill where, in a glowing halo of light she ascended into heaven.
On that particular spot where she set foot on land, a statue was built in homage to her. Centuries later, when Portuguese sailors landed and asked the name of the place, the natives replied Ama-Gao (Bay of Ama). And so, the peninsula was named Amagao, which has been shortened to Macau.
Some years ago very few Indians knew about Macau. In less than five years, the number of Indians discovering the excitement of this island off Hong Kong has increased manifold. It was Kathmandu where the average tourist headed for his casino fix. Mutliply that a million times and polish it up with a very swank hue and you know why Macau is catching the fancy of the wealthy Indian traveller.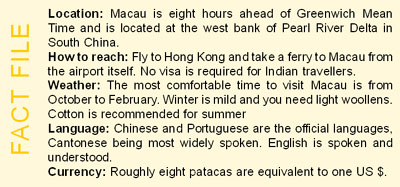 Macau lives up to its reputation of being a gold digger's paradise as far as casinos are concerned. Taking the axiom quite literally, the lobby at one hotel is actually paved with pure gold. As if to rub it in, bricks of sheer gold weighing a kilo each are embedded in the floor in a glass casing embellished by diamantes.
To reach Macau one would generally have to go first to Hong Kong — a four-and-half-hour flight. From the airport, a bus ride takes you to a jet-engined ferry that glides over the choppy seas in one smooth movement. The ferry station is the only entry port for Macau. A helipad atop a building takes care of the rich and famous from mainland China and other countries.
Almost 75 per cent of the population of Macau is Tao Buddhist with 10 per cent Protestants due to the British influence, given its proximity to Hong Kong.
Casinos are out of bounds for locals and pecuniary sinning is reserved for visitors.
Glittering skyline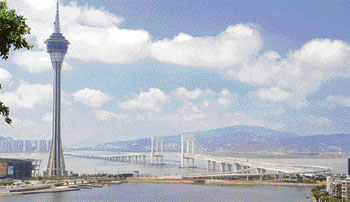 A visit to Macau Tower Convention and Entertainment Centre offers a heady experience
As evening falls the skyline is lit up as glitteringly as Las Vegas, provoking gasps from the uninitiated. Going strictly by casino business, Macau is growing faster with 30 per cent more collection than in Las Vegas in the US.
Almost half of Macau has been claimed from the sea barely a decade ago. It was just 27 sq km and now it is 47 sq km, thanks to furious reclamation. The amazing cross-cultural mix is visible not only in the buildings and ambience but also in the food. We visit a restaurant and are amply rewarded by a rich experience of Portuguese and Chinese cuisine.
Dominating the skyline is the Macau Tower Convention and Entertainment Centre, which has something for everyone.`A0Tourists whisk to the top in a glass elevator with its breathtaking views.
The brave-hearted walk the hair-raising Skywalk 216 metres above the ground. This is one experience that no one will forget in a lifetime. Those who can complete it actually get a certificate of bravery.
Most of the antiquity of Macau is preserved and presented in a fine museum. Built in three levels and very interactive, the museum has ancient Chinese artifacts and dioramas on silk and leather. A few hours do not suffice for the visit.
Hedonistic destination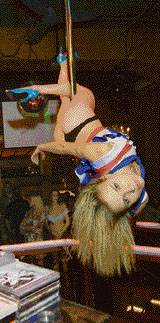 Macau is high on night life
However, the real Macau comes alive in the evening and lives up to its hedonistic promise at the happening casinos, making it the throbbing destination of pleasure seekers without lending it a sleazy air.
The bridge over the sea`A0is a remarkable engineering feat and together with the Macau tower forms a lasting image of the island state. With its casino culture and glittering skyline, the government is digging deep foundations of tourism and transforming Macau into a pleasure garden of the Asian world
The stunning Sands casino is the playground for the rich and the wannabe rich. It is the melting point of dreams and hopes.
The desire to win lures over two million gamblers every year to this casino. On some tables winnings can touch $22,000. But one can play lower risk games too like baccarat, blackjack and roulette.
The escalators draw visitors up to its three levels as the floors are chock full of people betting and playing petty and high stakes. However, the real games are played in exclusive privacy in a space that is virtually separated from the hoi polloi in luxury that is unimagined. Indeed the nightlife throbs in Macau with clubs and pubs that remain open till the wee hours.
It's just not enough to be rich. You have to be unthinkably rich to blow up $10,000 on a suite at some of these luxurious hotels-cum-casinos. But, if extravagance is not your style, there are plenty of pocket-friendly places too.
Those who come to Macau, at once are seized by the desire to live here forever. And if you cannot make that dream come true, at least Macau continues to live in you forever. — NF