Face of a new India
Ashish Kumar Sen in Washington talks to film critic Anupama Chopra about her recent book on Shah Rukh Khan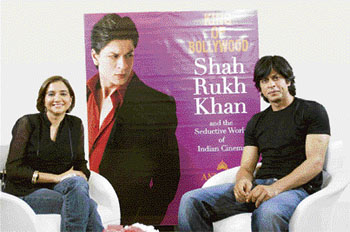 Anupama Chopra with Shah Rukh Khan at the release of the book
Film critic Anupama Chopra has been writing about Bollywood for years, so it was only natural that she pen a book about its biggest star. King of Bollywood; Shah Rukh Khan and the Seductive World of Indian Cinema chronicles the rise of a middle-class Muslim boy from Delhi into the superstar of the $1.5 billion Bollywood industry. Married to filmmaker Vidhu Vinod Chopra, Anupama Chopra has seen Bollywood up close and personal. Her book is testimony to the access she has in the film world and is filled with interesting anecdotes gleaned from interviews with Shah Rukh and his friends.
"Shah Rukh Khan is the face of a glittering new India. He is a modern-day god. On street in India, his posters are sold alongside those of religious deities. Temples have been erected in his name. For Indians and the varied non-Indian lovers of popular Hindi cinema, Shah Rukh is bigger than Tom Cruise and Brad Pitt combined," Chopra writes.
Excerpts:
What prompted you to write this book?
This book stemmed out of the second book I wrote: a monograph on Dilwale Dulhaniya Le Jayenge, which the British Film Institute published as part of their Modern Classics Series.`A0While writing about DDLJ, I became very interested in Shah Rukh's story of an outsider who came in and became a superstar.`A0I also became interested in Shah Rukh as the face of a post-liberalised India. So this book is an attempt to tell the story of Bollywood and India through Shah Rukh's life and films.
Hollywood has a galaxy of stars — why is it that one star dominates Bollywood for long periods of time?
I'm not really sure why our stars have longer shelf lives.`A0 Perhaps our passion for our superstars is far greater. Also, our stars do more movies than Hollywood stars and that perhaps leads to more hits and therefore an extension of the career.
How do you explain the Shah Rukh phenomenon?
I think he has a great and intimate connection with the audience.`A0 He has an unflagging energy and charisma. You cannot take your eyes off him on screen.
What similarities are there between SRK and Amitabh Bachchan, who earlier dominated the scene?
I think both are icons of their times. Shah Rukh is the face of the 1990s and new millennium just as Mr. B. was of the 1970s and 1980s.
What sort of relationship does SRK share with the Bachchans?
They seem to have a cordial professional relationship. I don't know anything more than that.
In your book you have many interesting anecdotes about Shah Rukh — what was your favourite?
I loved the stories about his parents and their struggle.`A0 They both sound like fascinating people.
I believe he was reluctant to do the book. What did it take to convince him? What was the experience like doing this book with him?
He said he was embarrassed that I wanted to spend so much time and energy writing a book on him.`A0 But once he said yes, he was wonderfully supportive and warm.`A0He was generous with his time and emotions.
After writing this book what did you learn about the man that surprised you?
I did not know that his father also came to Bombay to be an actor.`A0 I learnt that his first feature film was In Which Annie Gives it Those Ones, which was written by Arundhati Roy.`A0 He also spoke very openly about his harassment at the hands of the mafia and how shattered he was when Phir Bhi Dil Hai Hindustani flopped.
What kind of relationship does he share with Gauri — has marriage and fatherhood made him less possessive than his younger days?
I'm not equipped to comment on his relationship with Gauri.`A0 What I know is in the book.
A lot of his fans want to know about his relationship with Karan Johar. A lot of rumours keep floating.`A0Did he satisfactorily address these for you?
Yes, he did. Karan is actually closer to Gauri than he is to Shah Rukh Khan.
You write Shah Rukh became Bollywood's biggest romantic icon without ever locking lips with a co-star. Was it really the bad press he got after Maya Memsahib that made him averse to such scenes?
He also says that he feels very shy doing such scenes. He's just not comfortable and he doesn't believe that its necessary to kiss to convey romance.
He's a man who has everything, has done everything. What is his biggest regret?
I think it would be losing his parents at such an early stage.`A0 Not that he could've helped it in any way.`A0 But they didn't live to see him soar.
Is there anything that he hasn't done which he now seeks to do?
He wants very much to create a Hindi film which will cross over to mainstream Western audiences and work around the globe.`A0 He's also setting up a special effects studio.
Some Indian actors are looking at roles in Hollywood productions. Is this something SRK has ever considered — something he wants to eventually do?
He says no one has offered him a role in a Hollywood film.
Is he still as willing to take risks with acting roles as he was in his younger days — or has he created a niche for himself by doing certain formulaic parts?
I think he is already taking risks with films like KANK, which clearly shattered the romantic Raj/Rahul image and the upcoming Chak De, which isn't part of the candy floss narrative at all.
Does SRK feel there are any other actors out there who are worthy successors to his crown — does he feel threatened by any other actors?
You would need to address this question to him.`A0 But he does talk in the book about what it was like when Hrithik Roshan was coming up.
You talk about him being a Muslim star who is treated like a god in a predominantly Hindu society. Has his role in any way helped Hindu-Muslim relations?
I think Hindi films and Hindi film stars are a huge influence on society. So a much-loved Muslim icon like Shah Rukh Khan can only be a positive influence.
What is your favourite SRK movie?
DDLJ