Bollywood's talent pool
A new DVD collection of diploma films made over the past 20 years has been brought out by Rudra Entertainment. Shoma A. Chatterji looks at it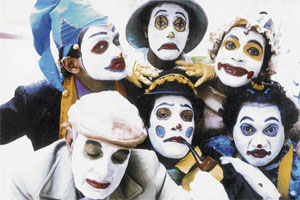 A still from Rajat Kapoor's Hypothesis (1996), in which he experimented with the anti-narrative form
When we go ga-ga over Munnabhai's antics, barbs and potshots at everything beginning with the state of medical education in the country, we hardly bother to think who directed the film and what is it that has equipped him with the craftsmanship that made him churn out such wonderfully successful entertainment like Munnabhai MBBS and Lage Raho Munnabhai. Well, since then we have become familiar with the name Rajkumar Hirani and that he has collected quite a few awards courtesy these films. But few of us know that he had to cool his heels waiting for his first directorial foray for many years since he graduated from the Film and Television Institute (FTII), Pune.
The tall, suave and handsome Rajat Kapoor, who is going places with Raghu Romeo as director and Corporate as character actor, is also a graduate of FTII. Mohan Agashe, theatre person and film actor, who was director of FTII for some time, once said, tongue firmly in cheek, that the Institute has produced a genuinely colourful range of directors beginning from internationally renowned directors like Adoor Gopalakrishnan, Shaji Karun or Girish Kasaravalli, to David Dhawan with his Govinda-centred tapori films or Kundan Shah with his flair for black comedy a la Jaane Bhi Do Yaaron. Ghai is also a FTII diploma holder.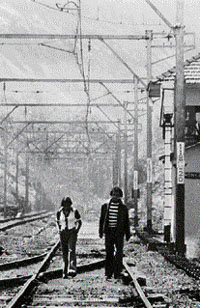 Murder at Monkey Hill (1976) was Vidhu Vinod Chopra's diploma film which later on became Sazaaye Maut
As a tribute to FTII graduates, Rudraa Entertainment Private Limited has encapsulated for posterity diploma films of FTII graduates over the past 20 years. The films are on a two-disk, high-resolution DVD format. Curated by Tripurari Sharan, director, FTII, they underscore the potential of excellent filmmakers, technicians and actors while they were being moulded and shaped by the institute. Jaya Bhaduri, Danny Dengzongpa, Shatrughan Sinha, Shabana Azmi, Naseeruddin Shah, you name it and he or she was there, shining brightly in the Bollywood sky. Cinematography, editing and sound have played out brilliance in the name and style of Jehangir Choudhary, Hari Nair, Shaji Karun, Hitendra Ghosh, Nadeem Khan, (late) Renu Saluja, Piyush Shah, Hari Nair, Anupama Chandra, who have enriched the texture of film technique.
Rajkumar Hirani specialised in editing. For his diploma film, he edited Sreeram Raghavan's graduation film The Eight Column Affair (1987). One catches glimpses of actors like Nana Patekar, Shivkumar Subramaniam and Hemendra Bhatia in the film. It explores the journey of news coming alive when a sportsman featured on the front page falls in love with the sportswoman featured on the last page. One wonders why it took Raghavan so long to establish himself as an independent director on his own right. His debut into feature films came with Ek Haseena Thi (2004), a slickly made and briskly edited action thriller that caught the attention of critics and audience alike.
Vidhu Vinod Chopra's diploma film was Murder at Monkey Hill (1976), which he later made into a full-length feature called Sazaaye Maut. The same main casting with Naseeruddin Shah as the killer hired to kill a young girl (Radha Saluja) to grab her massive inheritance carry marks of a good director in the making. His flair for suspense, action and exploration of relationships under severe stress came across well, and was on display in one of his later film Parinda, edited by another gifted alumnus Renu Saluja. The film won the National Award for the Best Experimental Film in 1977-78. Chopra is the first Indian filmmaker whose short film, An Encounter with Faces was nominated for the Oscars. He has produced Munnabhai MBBS and Lage Raho Munnabhai.
Rajat Kapoor who made his presence as actor in films like Dil Chahta Hai, Corporate, Mira Nair's Monsoon Wedding and recently, in the Bengali Anuranan, directed Hypothesis (1996.) The film is notable for the maker's experimentation with the anti-narrative form within a narrative content. Kapoor later came into his own with Private Detective and Raghu Romeo, the latter having won a National Award. His short film, Taraana, also won a National Award.
Though often dogged by politics and administrative hassles, the FTII, founded in 1960, has come a long way in what it originally set out to do – produce graduates in cinema and television who would enrich Indian cinema with the professional scholarship and honing of talent. Some, like Jill Misquitta, have settled abroad. — TWF