SOCIETY
Housewife's hi-tech crusade
Information technology may well be the means to fight corruption. In Karnataka, Jayashree J.N.'s website to tackle the problem has generated widespread interest, writes Jangveer Singh from Bangalore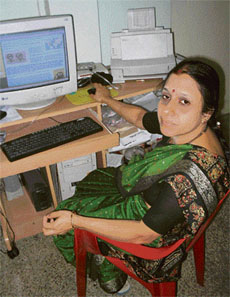 Woman of substance: She considers the website as her lifeline
Jayashree J N is a housewife with a difference. She is married to an IAS officer who has been fighting a lonely battle against corruption since the last 25 years. Used to annual transfers, the lady says she has even educated her two sons in four different schools in the course of one year in 1997. "I was content with my husband M N Vijay Kumar doing his bit but recent developments forced me to look at the plight of whistle-blowers and I immediately decided they needed help from society as they were getting none from the state".
Jayashree says the circumstances of her husband, who has been transferred nine times in the course of seven months, made her think on the lines of writing a book to highlight the entire issue. "I, however, realised the book may have limited reach and decided to come out with a website on the problems of whistle-blowers as well as giving a platform to people to unmask corruption in governance".
The absence of any police protection for her husband despite asking for it also helped Jayashree to make up her mind to start the website. "I felt I should go for alternative security", what she terms as 'cyber security'. "Whistle-blowers do not tell people what is happening to them due to which they ultimately suffer tremendously. I did not want this to happen to my husband. The website is our best protection", she adds.
The website — www.fightcorruption. wikidot.com — is the lifeline of Jayashree and is the epicentre of their two-bedroom first floor apartment accessed from a small gully. "We shifted here to be close to our son's college and also for the safety it offers", says Jayashree. She says the fight against corruption launched by her husband was apparently not liked by many. "One day we had a visitor telling us our son had met with an accident when, in fact, our son was home because he had chosen not to go to college that day".
Jayashree says the couple decided to go in for "people security" that day and shifted residence. The flat they live in now has a number of neighbours on the ground floor as well as the second floor. Their balcony is grilled and locked. The small flat has two cane chairs and two plastic chairs along with a table which serves as a drawing room. There is one bedroom for the couple and the second room houses their computer.
Even as Jayashree talks, she accesses her website which, though started only a few months back, is already creating waves. Its guest book is several pages long with a typical response from one Gabriel John, reading:''Thumbs up to the fight against corruption. Rather than just cribbing about our corrupt political system, we should find a way to fight it''. The site, which is updated every day by Jayashree, explains how one can join the legal battle against corruption, get details about the RTI Act, where to get moral support (for whistle-blowers) and personal information as well as a chronicle of the couple's own experiences while accessing the RTI Act.
The woman, who is also secretary of a local body, Right to Information Awareness Forum, has herself filed more than 20 applications under the RTI Act, out of which 12 are under appeal. Few examples include questions as to why a high-level committee formed to control corruption in the state was dismantled in 2002. Another question asks why has the government not formed a standing committee to protect officers fighting corruption despite a Cabinet Secretary's letter issued in this regard in July, 2004, after the murder of whistle-blower Satyendra Dubey.
The government has tried to stonewall most of the queries and had even denied that any committee was ever constituted to fight corruption till faced with the facts from Jayashree. "Now the Karnataka Chief Information Commissioner has issued directions to the government to make these details available to it", she says, lamenting the time taken to unearth a simple fact. Jayashree feels the RTI Act needs fine-tuning because most of the information supplied by government agencies under the Act is rendered irrelevant by the time it is released. She has even filed an application bringing this fact to the light of the state Information Commissioner.
There is some light at the end of the tunnel. Jayashree says post launch of the website, a group of concerned citizens has been mobilised in Bangalore so that more can be done to bring about a change in governance. She says the system can be replicated elsewhere in other parts of India as the website launched by her is attracting specific cases. "It is a people's movement, I am just a catalyst".