TELEVISION
Get the last laugh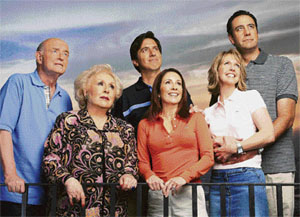 Farewell to Everybody Loves Raymond
How do you say goodbye to the show which the New York Times called "the sitcom of our times"? Find out as Everybody Loves Raymond bids a fond farewell after nine laughter-filled seasons with its final season on Star World every Monday at 8 30 p.m.
One of the most successful series of the decade and winner of 15 Emmys and numerous other awards and nominations, Everybody Loves Raymond has remained a family favourite of comedy television.`A0 The show revolves around the life of sportswriter Ray Barone, his wife Debra, daughter Ally, and identical twin sons Geoffrey and Michael. Unfortunately, Ray's quirky parents and his self-doubting brother Robert never give his family a moment of peace, and he finds himself and his wife being constantly dragged into their myriad squabbles.
In this final year, Ray's prying parents Marie and Frank have moved to a retirement home in New Jersey while Robert takes up residence across the street. When the finale aired in the US recently, the episode attracted a record 32 million viewers.
Now here's your chance to have the last laugh with Everybody Loves Raymond.
Star-crossed romance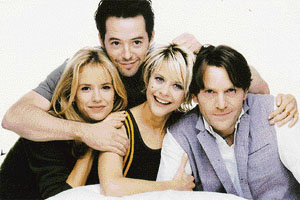 A scene from Addicted to Love
When someone is addicted to love, anything is possible. That is the underlying message of this romantic comedy with more than a touch of weirdness.
Addicted To Love (on August 8 at 9 pm) on HBO revolves around Sam (Mathew Broderick), a naive romantic, who is an astronomer from a small town. Maggie (Meg Ryan), a worldly-wise cynic, is a photographer from New York.
Strangers and poles apart, what the two have in common is an obsession with their respective lovers who've just jilted them and left them heart-broken. The two are now blissfully sharing an apartment. They embark upon a diabolically funny scheme of revenge. Yet their plans unexpectedly begin going awry as the relationships between the four characters evolve in a way none of them could ever have imagined. — NF