ulta pulta
Couple of issues
Jaspal Bhatti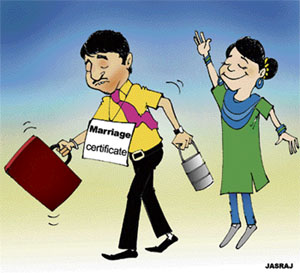 Imagine a newly married couple riding a scooter and suddenly a policeman stops them and says, 'Kagaz dikhao'. The husband shows him his driving licence and the registration of his scooter. "Bhai Sahib, I am asking for your marriage registration not your scooter registration", clarifies the policeman.
The man would say, "Sorry, havildar sahib! I have forgotten the papers at home." Ok, leave your wife here, go bring the papers and show me, then I will set your wife free. The husband would throw himself at policeman's feet, "Aap mera scooter rakh lo, wife chod do. Believe me I will produce the marriage documents in half an hour."
Later on the policeman might let them go after the husband had greased his palm by parting Rs 500 from the shagun account that he had received on his marriage reception.
That is a separate issue as to how the registration papers would be checked but the Supreme Court has directed the states that they should register all marriages irrespective of the religion of the couples. The effort is a step to prevent child marriages. My opinion is if the marriage registration certificates are made mandatory to be hung from necks the chances of polygamy and adultery would be minimised.
A wife might forget to pack the lunchbox for her husband but she would never forget remind her husband when he leaves for work, "Marriage certificate gale mein latka liya hai?"