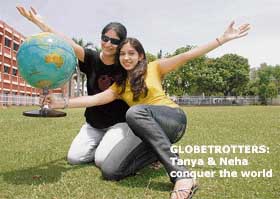 Millions for my mate
It's Friendship Day and you've found Aladdin's lamp. What would you do? Read on...
You've fondly reminisced about the past, laughed over inane things, ripped into everyone and yes, hung out at the coolest places in town. You've called her in the middle of the night (to howl after breaking up with your boyfriend) and she's got you playing midwife to her cat in wee hours of the morning.

Together forever
Time cannot wither, nor custom stale, the timeless beauty of her relationships. Amar Chopra of Sector 33 was in school in Delhi soon after Partition when she shared her dreams and ambitions with pals Gurvinder, Kamlesh and Shirni. Even today, the sixty-something is sharing their concerns, either through letters, or the phone.
For a new you
Varsha Khanna is here to help you discover the stylish side of your personality
She is a matchmaker with a difference. For, she helps you tie the knot with panache and elegance by suggesting combinations and styles that suit your persona. Not just for marriages and reception ceremonies, but for others occasions as well.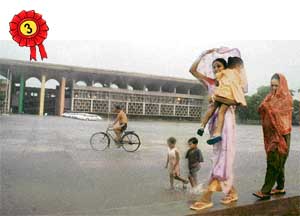 Come rain, come sunshine, life goes on... The Tribune lensman Vinay Malik's award-winning photograph on the theme, Architecture and Life — Punjab and Haryana High Court, captures just that. He will be honoured on August 15.
FILM & FASHION
Waitress Kylie
Singer Kylie Minogue was mistaken for a waitress while filming science fiction show Doctor Who. The 39-year-old donned a traditional black waitress' uniform for a scene outside a five-star hotel, when an old lady asked her for a cup of tea. "Excuse me love, is it too late for a cup of tea?"
First Day First Show
Web of Emotions
Gandhi My Father: Must watch
With depths of depravity and heights of despondency, the landscape of Gandhi My Father is not emerald green. Muted colours of melancholy dot it. Trauma runs deep through the mind of a loving father, Mahatma Gandhi (Darshan Jariwala), whose world has been torn asunder by a recalcitrant son, Harilal Gandhi (Aksheya Khanna), desperate to come out of the shadows of the dhoti-clad icon.
Write to Renee
I'm 32 years old, married for a year and desperately looking for the man I married in my husband. We used to spend a lot of time together and never seemed to be enough. After one year of marriage, I feel I don't know this man at all. What do I do?
The 'F' factor
Youngsters pick up and discard pals like mobile recharge coupons. The validity of friendship has been cut from a lifetime to a year
The system of getting in good with strangers has never been so user-friendly. Embracing the concept of celebrating free-for-all socialising days with open arms, guys from the ever-willing-to-mingle brigade simply scribble on greeting cards.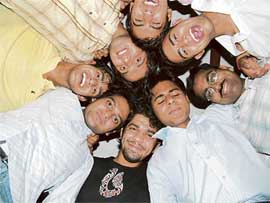 Bond without the Bucks
Broke? Not to worry, here's how to celebrate
Samosas, last minute-examination fees, trinkets for your girlfriend(s), popcorns during flicks, down payment for your laptop, fuel for the car, your share each time you went out to eat, and much more. Your friends have been your ATM ever since. Hmm now that at least saves you from getting worried over the world celebrating Friendship Day with glam and glitter.