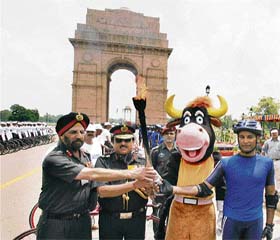 Leader of the 15-member cycling expedition of Army's EME from Leh to Kanyakumari, Maj Vishal Ahlawat (right), Lt. Gen Arvind Mahajan (centre) and Bravo, the mascot of the fourth Military World Games, hold the flame of the games in New Delhi on Monday. — PTI
Khammam Firing
Karat, Bardhan meet Sonia
New Delhi, August 6
Left parties have called upon Congress president Sonia Gandhi to intervene and direct her party's government in Andhra Pradesh to fulfill their demands for land distribution among the poor, saying that the struggle would be further intensified if these demands were not met.
No confirmed news of Al-Qaida threat: Minister
New Delhi, August 6
Amid reports over the latest Al-Qaida threat warning that diplomatic missions here would be targeted, India today said there was no confirmed news till now on any such threat and that the security forces were always ready to face such threats.
UP flood toll crosses 150
Lucknow, August 6
Despite waters of major rivers continuing their downward trend during the last 24 hours, the death toll by floods in the 21 districts of Eastern Uttar Pradesh crossed 150 today.

In video (56k)
Over 50 feared dead as boat capsizes in Bihar
Samastipur (Bihar), August 6
Over 50 people were feared to have drowned when a country boat capsized in the midstream of the Ganga here this evening. The boat carrying around 130 passengers lost control and overturned because of swift easterly winds in the swollen river.
Bihar flood situation improves
Patna, August 6
The flood situation in Bihar today showed signs of improvement with major rivers receding all along their course. Relief and rescue operations were further intensified with the help of motorised boats from the Army and the Indian Air Force helicopters in the worst-hit districts.
News Analysis
Developments in Pakistan have India worried
New Delhi, August 6
India is worried about the explosive situation in Pakistan and is not interested in making a short-term political capital by rocking Gen Pervez Musharraf's boat. The logic behind the Indian empathy is the fact that if a neighbour's house catches fire, you too are not safe.
Tech for future
Now tamper-proof degree certificates
Hyderabad, August 6
Tampering with and forging of degree certificates will soon be a thing of the past, thanks to a new technology called Radio Frequency Identification. In a first of its kind exercise in the country, the Hyderabad Central University has issued degree certificates embedded with a tamper-proof digital chip using RFID technology.
Bodhi tree branch was cut 3 years ago: FRI team
Dehra Dun, August 6
As per the findings of scientists of Forest Research Institute here, the incident related to the cutting of a branch of Bodhi tree in Bodh Gaya that came to light some time back had actually taken place more than three years ago.
Special programme in Parliament on I-Day
New Delhi, August 6
A special cultural programme has been planned in the Central Hall of Parliament House on the evening of August 15 to celebrate 60 years of India's independence. Sarod maestro Amjad Ali Khan and his sons Amaan and Ayaan will kickstart the 90-minute programme with the rendition of Mahatma Gandhi's favourite hymns, "Vaishnav Jan to" and "Raghupati Raghav".
I-Day
Home secy reviews security
New Delhi, August 6
With just 10 days left for the Independence Day celebrations, union home secretary Madhukar Gupta today convened a high-level meeting to review security arrangements. The meeting was attended among others by Delhi police commissioner Y S Dadwal, Special Protection Group director B V Wanchoo and some of the top officials of the union home ministry.
Taj corridor case
Amicus curiae can take up plea against Guv's order
New Delhi, August 6
The Supreme Court today refused to entertain two PILs challenging the order of Uttar Pradesh Governor T V Rajeswar of denying sanction for the prosecution of state CM Mayawati in the Taj corridor scam case, but gave permission to amicus curiae assisting it to raise the issue after examining the documents.
Sohrabuddin Case
SC notice to Gujarat cop
New Delhi, August 6
The Supreme Court today issued notice to Gujarat police officer Narendra Ameen on state CID SIT's plea for cancelling his anticipatory bail in the Sohrabuddin fake encounter case.
SC go-ahead to Salem's trial
New Delhi, August 6
The Supreme Court today directed that the trial proceedings against underworld operative Abu Salem under TADA would continue in the Mumbai blasts case separated from other accused convicted recently.
Munna's e-supporters warned of contempt
Mumbai, August 6
Those who have been pouring support over the Internet for imprisoned actor Sanjay Dutt have come in for strong criticism from the public prosecutor who helped incarcerate the 'Lage Raho Munnabhai' star for illegally possessing weapons.
Sanjay lawyers to file bail plea today
Pune, August 6
Bollywood actor Sanjay Dutt is all set to file a bail plea in the Supreme Court tomorrow with his lawyer Satish Maneshinde completing the formalities here today. Mr Maneshinde met the actor on Monday and after securing the latter's signature on a set of papers left for New Delhi.


Salman case hearing adjourned
Jodhpur, August 6
A court here today adjourned till Tuesday the hearing of an appeal filed by actor Salman Khan against his conviction in a blackbuck poaching case. District and Sessions Judge K.R. Singhvi heard the arguments of Salman's counsels, S.R. Bajwa and H.M. Saraswat, in two sessions for nearly three hours before adjourning the hearing.


Actor Salman Khan arrives at Jodhpur court on Monday to appear for the hearing in the Chinkara poaching case. — PTI photo
Nine denied bail in female foeticide case
Nayagarh, August 6
A local court today denied bail to nine persons, including three doctors and the wife of a government doctor, who had been arrested following the furore over the female foeticide incidents here.
'Check B'desh migrants'
Guwahati, August 6
The North-East Students Organisation, an amalgamation of all leading students' organisations of seven northeastern states, has demanded an inner line permit shield for these states against illegal immigration from Bangladesh.
Veteran Forward Bloc leader Guha dead
Kolkata, August 6
Senior Forward Bloc leader, Kamal Guha, who was a former state agriculture minister, today died at a private nursing home in his home district at Coochbehar in north Bengal after his protracted illness. He was 82 and is survived by his wife, daughter and a son.
Poachers kill 1 more rhino
Guwahati, August 6
Poachers killed another endangered one-horned rhino of Kaziranga National Park in the wee hours today at a place called Bokial, just off the demarcated area of the wildlife sanctuary.
Coimbatore blasts: 5 more convicted
Coimbatore, August 6
A special court, hearing the 1998 Coimbatore serial bomb blasts case, today convicted five accused, for whom pronouncement of judgment was deferred on August 1.
Data from Kafeel's hard disc retrieved
Hyderabad, August 6
The Andhra Pradesh Forensic Science Laboratory has retrieved complete data from the hard disc seized from the house of Bangalore-based Kafeel Ahmed, the Indian engineer suspected to be involved in the failed terror attack on the Glasgow airport on June 30.
2 students drown
Kolkata August 6
Two school students, who did not know swimming, drowned in the Ganga after being egged on by their teacher to take a dip. Nabankur Banerjee, Partha Saha and six other students went with their teacher Bhaskar Roy to Mistiri Ghat, in North 24 Parganas last evening.



Videos
Military World Games' torch in Delhi.
(56k)
Oldest student in the country.
(56k)
Trials for Snake Boat Race begins in Kerala.
(56k)
Auto-rickshaw rally to promote adventure and charity.
(56k)
Mallika to match Zeenat's sex appeal.
(56k)
Ritiesh's penchant for hogging limelight.
(56k)