Coffee is good for older women's memory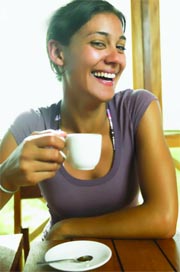 Washington: Drinking coffee really does have its benefits if you're a woman, and over the age of 65, for it will help protect your memory.
The finding is based on a study conducted by researchers at the French National Institute for Health and Medical Research, in Montpellier, France, who were led by Dr Karen Ritchie.
The study involved 7,000 people whose cognitive abilities and caffeine consumption were evaluated over four years.
The researchers found that women aged 65 and older who drank more than three cups of coffee (or the equivalent in tea) per day had less decline over time on tests of memory than women who drank one cup or less of coffee or tea per day. — ANI
Green tea could ward off skin disorders
Washington: A new study has found that green tea could prove to be a promising new treatment for skin disorders such as psoriasis and dandruff.
Researchers at Medical College of Georgia studied an animal model for inflammatory skin diseases, which are often characterized by patches of dry, red, flaky skin caused by the inflammation and overproduction of skin cells. The researchers found that those treated with green tea showed slower growth of skin cells and the presence of a gene that regulates the cells' life cycles.
"Psoriasis, an autoimmune disease, causes the skin to become thicker because the growth of skin cells is out of control. In psoriasis, immune cells, which usually protect against infection, instead trigger the release of cytokines, which causes inflammation and the overproduction of skin cells," says Dr. Stephen Hsu, an oral biologist in the MCG School of Dentistry and lead investigator on the study. — ANI
'Lab on a chip' may revolutionise disease diagnosis
Washington: Researchers at Florida State University have developed a novel device that may speed up the diagnosis of various human diseases through the blood test.
"Lab on a chip", as the device is called, is a tiny microchip that makes possible the diagnosis of diseases just by testing a single drop of blood.
"Currently, a doctor seeking to help a sick patient may take a blood sample and send it out to a laboratory. In three or four days, the lab results will come back and the doctor will have a better idea of what ails the patient," said Thomas Fischer, an associate professor of chemistry and biochemistry, one of the researchers who designed the device.
"With the 'lab on a chip,' however, it might be possible to take a single drop of the patient's blood, place it on a small chip, and then be able to provide a very quick, inexpensive and — most important — accurate diagnosis," Fischer added. — ANI
Being fat is now 'normal'
Washington: Women no longer mind putting on weight, for it has become socially acceptable to be fat, a new study has revealed.
The paper, "Social Dynamics of Obesity", is the first to provide a mathematical model of the impact of economic, biological and social factors on aggregate body weight distribution. It also is one of the first studies to suggest that weight norms may change and are not set standards based on beauty or medical ideals. — ANI